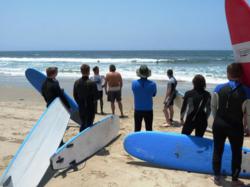 With the recent and continued demand, we have to be careful in our selection process
Woodland Hills, CA (PRWEB) October 20, 2011
"The complexities of addiction treatment, substance abuse and young adult chemical dependency have definitely changed in the past five years," explains Robert Pfeifer, MSW, founder of Sober College. "Additionally, the challenges of managing the admissions process for a stabilized program with limited beds, requires a certain level of sophistication. With the recent and continued demand we are facing, we have to be careful in our selection process. Iris brings that presence to our team and allows us to do the best job possible in assisting prospective families and coordinating with referral sources."
"Owning my own business in the fitness industry taught me what I know about customer relations and PR, however, my past five years at the Family Foundation School, were invaluable in learning this industry, addiction treatment and residential programs," explains Maclean. Located in upstate New York, the Family School is a therapeutic boarding school for adolescents. During her tenure, Iris spent the majority of her time in admissions and some time working with students in the program.
"As a part of my Sober College orientation process, I spent the afternoon at Trapeze Therapy and it only served to solidify my decision", explains Maclean. "Urban Experiential Activities like this really set the program apart and align with everything I know personally, professionally and academically about addiction treatment and its' related issues. I am excited to do all I can to assist parents and referring professionals."
About Sober College:
Sober College, headquartered in Southern California, is a small private institution providing alcohol and drug treatment environments for young adults age 17 to 25. The Sober College curriculum builds core competencies in life skills, employment, academics, emotional well-being and fitness. For further information visit our website at http://www.sobercollege.com or call 800-465-0142.
Contact Information:
Admissions: 800-465-0142
Phone: 818-415-3456
Fax: 818-274-0309
Address: 6233 Variel Ave, Woodland Hills, CA 91367
# # #