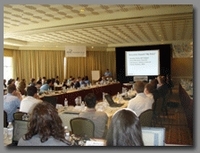 San Francisco, CA (PRWEB) July 2, 2008
AdMonsters, a professional association for online ad operations professionals worldwide, announced today that Joslyn Moore, Service Operations at Microsoft, will deliver the keynote address at its 19th US Publisher Forum on August 18, 2008, in Boulder, CO.
AdMonsters' Publisher Forum is open to individuals employed by digital media publishers and ad networks whose roles focus on online advertising operations and/or advertising technology. The conference agenda is comprised of member-led sessions covering a wide variety of topics specific to online ad operations, including ad serving technology, inventory management, organizational structure, business process automation, ad operations policies and rich/streaming media, making AdMonsters' Publisher Forum an invaluable tool packed with hands-on, technical solutions for online advertising operations teams.
Ms. Moore's keynote will examine the key components of a scalable service organization. During the talk she will address successful strategies for building, managing and maintaining a high quality service organization. Key pillars include the right organizational design, a strong people plan & customer focused technology investments.
As the Senior Director of the Service & Operational Readiness Team (SORT), Joslyn Moore is responsible for the readiness and operation of Microsoft's $3B global advertising business. Her organization includes teams leading service operations planning and learning development across both the media (search & display) and publisher lines of business within Microsoft Advertising's Audience and Publisher Solutions division (APS). Joslyn joined Microsoft in April of 2003 after spending 5 years in several roles within the advertising services group at the Walt Disney Company.
Registration for AdMonsters Publisher Forum US XIX is now open and is strictly limited to 100 attendees. More information for AdMonsters' US Publisher Forum can be found on their website at: AdMonsters Publisher Forum US XIX Website
About AdMonsters
Founded in 1999, AdMonsters LLC is the only professional association dedicated exclusively to online advertising operations and technology. AdMonsters provides a unique forum for ad operations professionals to communicate, collaborate, socialize, network, and identify best practices. AdMonsters' bi-annual conferences focus primarily on topics such as ad serving and related technologies, ad production, inventory and yield management, advertising products, policies, procedures, and industry standards and are considered to be essential by professionals in the field.
With more than 370 member companies worldwide, AdMonsters membership now includes senior leads and decision makers in ad technology and ad operations from most of the top-tier online media publishers in the U.S., and many in Europe. Dedicated to the ad operations industry, AdMonsters offers a full suite of ad operations training classes, consulting services and holds seven conferences each year which is open to those in interactive advertising operations roles at advertising agencies, ad networks, portal and publishers. More information about the company can be found on its' website: AdMonsters Website
###