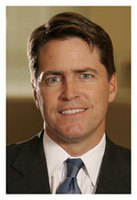 The dynamic between a sales department and ad operations is critical to the success of a company
San Francisco, CA (PRWEB) January 5, 2009
AdMonsters, a professional association for online ad operations professionals worldwide today announced that Peter Naylor, Senior Vice President, Digital Media Sales, NBC Universal, will deliver the keynote address at its 20th US Publisher Forum on March 9, 2009, in New Orleans, LA.
As Senior Vice President of Digital Media Sales for NBC Universal, Peter Naylor drives advertising sales for all of NBC Universal's digital properties and works with his ad operations team to maximize revenue. Peter's keynote will provide an overview of the challenges and opportunities that exist in our ever changing marketplace and how he looks to ad operations to contribute by not only executing efficiently but by executing strategically.
"The dynamic between a sales department and ad operations is critical to the success of a company," said Peter Naylor. "AdMonsters' publisher forums present a unique opportunity to speak with senior and influential ad operations leaders about the changes coming to our industry and how ad operations will be a part of that change."
"There is a lot of talk about the impact of the economy on online advertising in 2009, but just as much talk about the opportunities that exist. A lot of that will be coming from video and from new models like Hulu. Peter's in a great position to share insight about where that growth will be coming from and what advertisers will be looking for in 2009 and beyond. His vision and perspective will help our publisher forum attendees get prepared for change and react better to a challenging market," said Matt O'Neill, President of AdMonsters.
AdMonsters semi-annual US Publisher Forums bring together 100 leaders in online advertising operations to address common issues facing the entirety of the advertising operations community in a unique round-table format. Designed exclusively for managers, decision makers, and decision influencers of ad operations departments, AdMonsters publisher forums are a vital tool to ensure the continued success of ad operations teams. AdMonsters' Publisher Forum is open to individuals employed by digital media publishers and ad networks whose roles focus on online advertising operations and/or advertising technology. The conference agenda is comprised of member-led sessions covering a wide variety of topics specific to online advertising operations, including ad serving technology, inventory & yield management, organizational structure, optimization, business process automation, ad operations policies and rich/streaming media, making AdMonsters' Publisher Forum an invaluable tool packed with hands-on, technical solutions for online advertising operations teams.
"Success in online advertising is not the result of success in one aspect of the process. For ad operations to succeed, it must understand the needs of sales and vice versa. Having Peter speak is a unique opportunity to hear insight from a thought leader in the industry with a keen understanding of where ad operations fits into the value chain. He understands that effective deployment of advertising is as important as the quality of the ad idea that sellers bring to market." says Rob Beeler, Vice President of Content & Media of AdMonsters.
More information for AdMonsters' US Publisher Forum can be found on their website at: AdMonsters Publisher Forum US XX
About AdMonsters
Founded in 1999, AdMonsters LLC is the only professional association dedicated exclusively to online advertising operations and technology. AdMonsters provides a unique forum for ad operations professionals to communicate, collaborate, socialize, network, and identify best practices. AdMonsters' bi-annual conferences focus primarily on topics such as ad serving and related technologies, ad production, inventory and yield management, advertising products, policies, procedures, and industry standards and are considered to be essential by professionals in the field.
With more than 580 member companies worldwide, AdMonsters membership includes senior leads and decision makers in ad technology and ad operations from most of the top-tier online media publishers, ad networks and advertising agencies in the U.S., and many in Europe. Dedicated to the ad operations industry, AdMonsters offers a full suite of ad operations training classes, consulting services and holds several conferences each year which is open to those in interactive advertising operations roles at advertising agencies, ad networks, portal and publishers. More information about the company can be found on its' website: AdMonsters
###