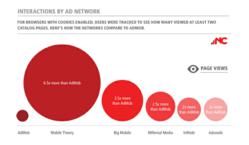 It's about selection: we hand-pick the publishers with loyal, engaged audiences and choose ad placements that will deliver results.
San Francisco, CA and Melbourne, Australia (PRWEB) July 27, 2012
Despite spending more than 50% of their mobile ad budgets with Google, Australia's most popular retail brands are finding that other mobile ad networks are outperforming them by as much as 9X over, according to a study by Australia's largest retail ad network.
In June 2012, the Melbourne-based iNC Network conducted a study to measure engagement within their digital catalog advertising network by following catalog interactions across the mobile ad networks of six leading international companies:

AdMob by Google
AdsMobi
Big Mobile
InMobi
Millennial Media
Mobile Theory
When tracking to see how many users viewed multiple pages in a catalog, iNC found that consumers from the US-based Mobile Theory network did so 6.5X more than those from Google's AdMob. Big Mobile offered 3.5X higher engagement level, followed by Millennial Media (2.5X) and InMobi (2X).
When tracking interactions that involved engagement with on-page elements (i.e., zooming in on a section, clicking a link within the catalog) iNC discovered again that AdMob underperformed compared to the others. Big Mobile produced 9X more interactions than AdMob, followed by Millennial Media (5X) and Mobile Theory (4X).
"As the single largest ad serving solution in the mobile advertising space, AdMob cannot be ignored," concluded David Burke, Head of Partnerships at iNC Network. "However, the results indicate that AdMob campaigns may require greater customization in order to achieve desired results. Big Mobile, Mobile Theory and Millennial Media delivered the most engaged ad clicks of all six networks in the study, making them clearly a better choice for advertisers who want real results."
"We are really pleased that Australian advertisers achieve such positive results with Mobile Theory, and to be honest, we aren't surprised that we outperformed the AdMob network to such an extreme," said Scott Swanson, CEO of Mobile Theory, an Opera Software Company. "Advertising is still a service business which requires personal interactions and years of knowledge, and AdMob simply doesn't offer the kind of personal touch that advertisers need. Mobile Theory is not a massive machine ruled by algorithms. We're adding that human touch, and we truly care about the final results. It's about selection: we hand-pick the publishers with loyal, engaged audiences and choose ad placements that will deliver results."
Methodology
CC Media tracked 126,399 aggregate ad clicks across six mobile ad networks. Tracking of these events involved data integrated from HasOffers affiliate software tracking platform and in-house iNC tracking software to measure ad clicks, catalog page loads, hyperlink clicks and page zooms within the mobile catalogue applications. The HasOffers tracking platform and iNC tracking system combined to measure the catalog interactions by anonymously following an initial ad click through a series of specific catalog interactions. Results are presented in aggregate as a comparison between networks to preserve client and ad network confidentiality.
HasOffers tracking was used to measure:

Clicks from the ad network
Page loads of the first two catalog pages where cookies were permitted
CTR from page one to page two of the catalog
iNC tracking was used to measure:

Hyperlink clicks within a catalog page
Page zooms
Mobile device type (i.e. iPhone, iPad, Android)
About iNC Network
The iNC Network is Australia's largest retail advertising network reaching between 3.8 – 6 million consumers each month. iNC partnerships with leading web publishers and mobile networks enable clients to reach consumers on their desktop, smart phone and tablet devices across the day and night. Through optimising 5 network channels (web, smart phone, tablet, email, search and social) iNC remains the most cost-efficient way for retailers to scale up their marketing efforts.
About Mobile Theory
Mobile Theory is the first mobile ad network built just for brand advertisers. A subsidiary of Opera Software, Mobile Theory's network of premium-quality mobile sites and apps provides exclusive, unduplicated reach to 90 million mobile Internet users, accessing 8 out of 10 US smartphone users via 15 billion impressions per month. Through rich media and stunning mobile ad executions, Mobile Theory enables the world's top brands and agencies to deliver advertising campaigns that engage and immerse the mobile consumer.