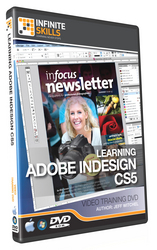 I think it's fair to say we succeeded on all points.
(Vocus) November 11, 2010
Infinite Skills Inc, a growing provider of interactive software training materials, has just announced a new tutorial video course focusing on the newest version of Adobe InDesign. The company worked with graphics professional and Adobe Certified Expert Jeff Witchel to produce a ten-hour course that uses a combination of instructional videos and practical based examples to make learning InDesign easy.
"It's a fact that people learn and retain more when they are shown how to in a visual environment. Learning an application as complex as InDesign can be daunting, but this new training course really does break learning down into easy to follow stages. What we wanted to do, was reproduce the same quality of training someone would get in a professional workshop, but deliver it in a much more direct format, and at a much lower cost" said Mike Spaulding, president of Infinite Skills. "I think it's fair to say we succeeded on all points."
Adobe InDesign CS5 Tutorial Video from InfiniteSkills
The tutorial series includes 97 individual lessons, each focused on a different aspect of InDesign CS5. After establishing a basic awareness of the InDesign workspace and user preferences, Witchel takes viewers through the basics of layout, including the use of grids, sections and master pages. The following lessons look at the drawing tools included and break down major aspects of project formatting, from paragraph settings to character and text considerations. Color, graphics, styles, interactivity and printing are thoroughly explored, too.
Infinite Skills offers the course in two different formats, shipped directly to customers on DVD or presented as a full download from the company's web site. "People often want access to the training right away," Spaulding said, "so we've provided an instant download option from the very beginning."
The InDesign CS5 tutorial accompanies Adobe Photoshop and Illustrator CS5 courses already in the Infinite Skills catalog, which also features a complete series of Microsoft Office 2010 tutorials and courses in dozens of other popular professional software titles. Since it began producing its own materials over a year ago, Infinite Skills has steadily expanded its offerings each month and is set to release a lot more in the next few months.
The InDesign CS5 course can now be purchased for $99.95 from InfiniteSkills.com. In addition to a full list of tutorial topics, the product page includes 17 lessons that can be viewed for free. More details may be found at the link below:
Free Evaluation | Adobe InDesign CS5 Tutorials
About Infinite Skills Inc
Leveraging strategic partnerships and a growing catalog of self-produced content, Infinite Skills has become a definitive source of software training on the Web through superior customer service and technical innovation in education.
###