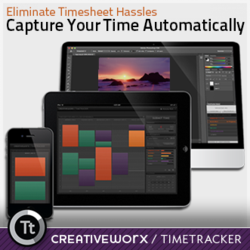 "CreativeWorx TimeTracker makes service companies more competitive by eliminating their timesheet madness."
Los Angeles (PRWEB) May 08, 2013
At Adobe MAX yesterday, CreativeWorx demonstrated the fundamental value of Adobe's new Creative Cloud by announcing that its TimeTracker solution is immediately available from within the Adobe Creative Cloud applications.
"We're thrilled to be working with Adobe and providing our automatic time capture solution for creative professionals," said Mark Hirsch, CEO of CreativeWorx. "The timesheet process is severely broken in most professional services firms, including advertising agencies and other creative organizations. Everyone knows it, but there hadn't been a compelling solution until now."
TimeTracker lets creative professionals do their best work by eliminating the administrative interruptions related to timesheet preparation and submission. TimeTracker automatically and privately captures how people spend their time and then generates a timesheet on-demand for adjustment and submission.
"Creatives love it because it eliminates the headaches related to time capture and timesheets. CFO's and Finance love it because it quickly delivers more accurate data," added Hirsch. "TimeTracker enables a company to be much more competitive."
Financial systems are only as good as the data that goes in. The creative industries have had a notoriously difficult time capturing how time is spent. CreativeWorx has an innovative approach that improves accuracy while empowering creative professionals to focus on their craft, not their timesheet. The patent pending CreativeWorx solution can help every creative organization be more profitable automatically.
With this release, Adobe Creative Cloud members can find, purchase & automatically install CreativeWorx TimeTracker without leaving their creative tool of choice…in just a few mouse clicks. One action installs TimeTracker in Photoshop, Illustrator, InDesign, InCopy and Flash Professional. Job ID's are shared across applications so that time is automatically grouped for a job regardless of how the work is done.
The extension can be found online at Adobe Exchange: http://bit.ly/Z6bTlg
About CreativeWorx
CreativeWorx is a New York-based technology company redefining enterprise productivity. It was founded by an ambitious team of designers, software engineers and process consultants who are passionate about eliminating outdated enterprise workflows. The CreativeWorx cloud-based platform redefines productivity by harnessing previously-untapped worker data to power real-time efficiencies and improved analytics. CreativeWorx is privately funded. To learn more, please visit: http://www.creativeworx.com
About Adobe Systems Incorporated
Adobe is changing the world through digital experiences. For more information, visit http://www.adobe.com.
###
© 2013 CreativeWorx Corp. All rights reserved. Logos and trademarks are the property of their respective owners.
If you'd like more information about this topic, or to schedule an interview with Mark Hirsch, please call 212-292-3190 or email pr(at)creativeworx(dot)com