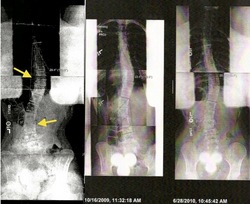 Julia's hard brace treatment failed to halt the progression of scoliosis because compliance with the recommended twenty hours of wear daily was a challenge.
Woburn, MA (Vocus) July 1, 2010
The Schroth Method for scoliosis, an innovative exercise therapy developed in Germany, is now available in the US on an outpatient basis at Scoliosis 3DC, a clinic just north of Boston. Incorporating the Schroth Method in daily life helps patients manage scoliosis proactively, lessening the effects of a curved spine.
A New Hampshire girl first diagnosed with adolescent idiopathic scoliosis at thirteen is now a happy scoliosis patient. Julia began Schroth scoliosis treatment a little over a year ago with Dr. Marc Moramarco, the first US physician to receive Schroth certification at the Asklepios Katharina Schroth Clinic, a German facility devoted exclusively to the non-surgical treatment of scoliosis.
"Adolescent scoliosis patients are ideal candidates for the Schroth Method because their spines tend to be flexible enough to respond to the curve-specific exercise and breathing techniques," Dr. Moramarco says. "Julia's hard brace treatment failed to halt the progression of scoliosis because compliance with the recommended twenty hours of wear daily was a challenge."
Julia's father, Julio, reports, "I was very upset because Julia refused to wear the brace during school hours for fear of being noticed by her peers." Julia recalls, "The brace felt uncomfortable and my Cobb angles kept getting worse with every x-ray."
Confused and frightened by the thought of Julia's spine becoming more twisted and curved, her parents opted to have her fit for a soft brace. That too was cumbersome, uncomfortable, had fit challenges, and ultimately failed to solve the problem of curve progression.
Julio recalls, "My main concern was finding a treatment to fix her problem. I assumed at first this would be an easy fix, but I was wrong, since there is no magic bullet."
A discouraging trip to the orthopedic doctor, news of further progression, and talk of eventual surgery to perhaps insert a rod in her spine sent a concerned father in search of answers. "To me, what Julia needed was an active approach instead, some form of physiotherapy, something to help her muscles work to actively stop and regress her scoliosis. The moment I found the Schroth method, it gave me hope. I immediately bought a book about it, but it was too complicated for me to understand. I kept searching and found Dr. Moramarco in Massachusetts."
Julio immediately contacted Dr. Moramarco. "I was impressed with his sincerity and commitment to the Schroth Method." What's more Julio says, "He could relate to what it was like to have a child with scoliosis since he had a similar experience with his own daughter."
Julia's appointments at Scoliosis 3DC were approximately 1.5 hours per week for seventeen sessions. She follows up every few months to make sure she is performing the exercises properly. Julio adds, "You can tell how much he cares about helping her, he gives 150% effort during the treatments."
Dr. Moramarco adds, "Julia is a model Schroth student. The Schroth method can be challenging to learn, but she is always focused and diligent about performing her exercises."
Julio finishes their story, "When we went for the next appointment with the orthopedic doctor, he asked about Julia's hours wearing the hard brace... well, he wasn't happy at all. Then, what a surprise when he saw the x-rays! The angles had decreased and he could not quite believe it. He just said, 'Whatever you are doing, keep doing it.'"
"At first, we never said anything about our decision to stop wearing the hard brace and substituting the Schroth therapy because we know traditional medical doctors are skeptical about alternative treatments. This last time, I finally told the doctor about Julia's exercises. He had never even heard of the Schroth Method."
Julia, now sixteen, is seeing the benefits of her hard work. Recent x-rays show the curves of her spine have reduced from 37º to 21º and from 29º to 20º, improvement of 43% and 31% and although Julia is past bone maturity, the curve reduction has added height to her stature.
According to Dr. Moramarco, "For those who want to try and avoid surgery, the Schroth Method is a viable alternative treatment for scoliosis. Patients with mild, moderate, and even some with severe curves, are using it successfully. It is effective for adolescents, adults and post-surgical patients. Schroth instruction can provide the knowledge to manage scoliosis over a lifetime."
He continues, "The Schroth Method has many benefits for patients, but primary objectives are to halt curve progression, derotate the spine, stabilize posture, improve appearance and increase lung capacity. As patients experience results, they feel empowered."
Julia agrees, she now feels more in control. Learning the Schroth exercises has changed her life and her results provide hope for others with scoliosis.
For more information or to learn how to contact Dr. Moramarco, please visit http://www.scoliosis3dc.com.
###