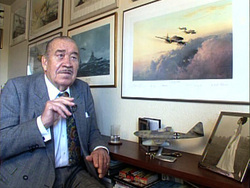 At this time the English fighter pilots, I would say, the best fighter pilots, They were equal with our own.
(PRWEB) November 19, 2010
AeroCinema.com in collaboration with Virginia Bader Fine Arts, two of the biggest names in aviation cinema and aviation art, bring an epic three-part film about Adolf Galland, featuring never-before seen footage shot nearly twenty years ago. Hear it from the maestro of the Me 109 himself as he speaks from his home town in Germany about his rise from the rank of a simple fighter pilot to a place right inside Hitler's inner circle of confidants and advisors. It's not every day one gets an opportunity to experience the firsthand recollections of the man who became a Luftwaffe General at the tender age of twenty-nine, fought in the Battle of Britain, and had over one hundred victories over the Allies.
A Luftwaffe ace of unmatchable class and pedigree, Adolf Galland carved out his name in history books not only as a man of maximum skill and talent, but also by being a brutally honest, thorough professional. This legendary fighter pilot became a highly respected author and a public speaker in his later years. Plenty has been said and written about him; now let us delve deeper and sit next to the legend himself as he guides us through history.
Listen to Adolf Galland's personal recollections about his flying days and what made him a cut above the rest. Be astonished as he remembers a time when he set about delivering a most unusual birthday present, and ended up shooting down three spitfires in the process. Discover why the Luftwaffe pilots easily outscored their Allied counterparts, and yet still managed to lose the war. The candid one-on-one interview also reveals how Galland became one of Hitler's favorites and at the same time was willing to oppose his superiors by locking horns with the notorious Herman Goering, leaving the Reichsmarschall ashen faced and in a fit of rage. Listen to Galland's analysis of the short comings of the Luftwaffe in the Battle of Britain and his praise for his brave English opponents.
Discover all this, and other crucial moments in history from a man who helped shape them. Take advantage of this rare opportunity to spend time in the company of a legend. AeroCinema.com invites you to meet 'Adolf Galland: Ace of the Luftwaffe'.
###