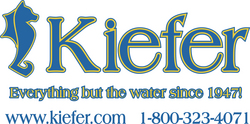 Adolph Kiefer is always pushing for new changes in our catalog and has never been satisfied with the status quo
Zion, Ill. (Vocus) October 23, 2008
Looking for Rubber Racing Turtles? Perhaps you are in the market for a Water Polo Shot Clock designed by two Olympian Polo Gold Medalists. You may want the same Speedo LZR Racer competitive swimsuit worn by Michael Phelps. And of course you want to find it fast.
Adolph Kiefer & Associates has promoted "Everything but the water since 1947!" and now makes it easier to find the right product quickly with a newly redesigned catalog. "Our customers are extremely busy and demand concise information presented in an attractive format," stated Robin Kiefer, Vice-president of Marketing. "We discovered opportunities to make significant improvements to the catalog without alienating our current customers while also attractively presenting Kiefer to new customers."
The catalog features the latest swimwear from Kiefer, Nike, TYR and Speedo and introduces a new selection of exclusive Kiefer goggles along with a wide array of unique pool and swim related products. Kiefer used photo shoots to enhance the presentation of its products, including a cover shot that congratulates Team USA swimmers on their performance in the 2008 Beijing Olympics. In addition, the catalog features a product-centric index creating a more user-friendly format for the reader.
"Adolph Kiefer is always pushing for new changes in our catalog and has never been satisfied with the status quo," Robin Kiefer says. "So there was a big push from Adolph to show a positive change in the catalog."
Kiefer relied upon the experience of GS Marketing Group, Inc. to objectively advise on the flow and design of the catalog. The catalog started arriving in homes in late August. Kiefer has set up the email feedback @ kiefer.com to actively solicit customer comments on the new catalog. Initial response to the catalog has been extremely positive.
About Adolph Kiefer & Associates:
Adolph Kiefer & Associates was founded in 1947 by Olympic swimmer and gold medalist, Adolph Kiefer. The 1948 Olympic Games debut launched the revolutionary nylon Kiefer suit to create a competitive swimming standard. Mr. Kiefer continues to dedicate his life to helping swimmers of all ages and abilities pursue dreams of swimming glory. The company sponsors a full calendar of competitive swimming events and is a top competitive swim team supplier. For more about Adolph Kiefer & Associates, visit http://www.kiefer.com.
Media Contact:
Robin Kiefer
Phone: 224-789-2621
Email: robin @ kiefer.com
###