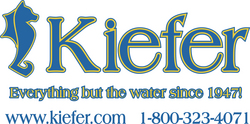 Zion, Ill. and Omaha, Neb. (Vocus) June 19, 2008
Long-term competitive swimming supporter and supplier Adolph Kiefer & Associates will be the official on-site merchandiser and sponsor of the 2008 U.S. Olympic Team Trials for Swimming in Omaha, Neb. June 29 through July 6. The Zion, Ill.-based company was selected Feb. 13 by Speedo America.
The USA Swimming Aqua Zone will offer merchandise June 28 through July 6 at the on-site Omaha Swimming Trials exposition in the Qwest Center. The Aqua Zone will feature U.S. Swimming Trials official event merchandise, Team USA Collection by Speedo and other select items from the company's Speedo, USA Swimming, Make a Splash and Mutual of Omaha lines.
The Aqua Zone will also host the autograph session with Adolph Kiefer June 30 from 1 p.m. to 2 p.m. As the presenter of medals for the Men's 100 Meter Backstroke on the evening of July 1, Mr. Kiefer will play an honored role in the Swimming Trials ceremony. Mr. Kiefer is the 1936 Berlin Olympic Games gold medalist for the event. Involved in competitive swimming for more than eight decades – first as a record-breaking competitor and now as a supporter and supplier – Mr. Kiefer celebrates his 90th birthday in late June. His overall competitive swimming record includes more than 2,000 wins and only one loss. Kiefer is a member of the inaugural group inducted into the Swimming Hall of Fame, Ft. Lauderdale, Florida in 1965.
Competitive and recreational swimmers, swim coaches and fans who are unable to attend the trials in Omaha can support U.S. swimmers by sporting U.S. Olympic Trials and Olympic Summer Games-Beijing merchandise including swimsuits, T-shirts and caps. Items are available for order online at http://www.kiefer.com or by phone at 1-800-323-4071.
Adolph Kiefer & Associates partnered with USA Swimming, the national governing body for the sport of swimming, to promote the Omaha event. The partners sponsored a sweepstakes with the Ultimate Swimmer's Getaway package giveaway: a trip for two to the U.S. Olympic Swimming Trials in Nebraska. The trip for two includes airfare, accommodations, a gift certificate to the Aqua-Zone and a $200 Visa card. The three-day, two-night package has an estimated value of $1,500. Kiefer randomly selected the lucky winner from a pool of 10,000 contestants on June 18, 2008.
In addition to its Aqua Zone merchandising at the Swimming Trials in Omaha, Adolph Kiefer & Associates will donate $15,000 in training gear and competitive aquatic equipment for pool upkeep and function as part of its event sponsorship. The company will also donate five percent of online merchandise sales from June 1 through July 4 to the Make a Splash incentive. The USA Swimming Foundation's Make a Splash incentive supports water safety, diversity and fitness through various activities including its sponsor-a-swim lesson program.
About Adolph Kiefer & Associates:
Adolph Kiefer & Associates was founded by Olympic swimmer Adolph Kiefer in 1947. As the official aquatics supplier to the 1948 U.S. Olympic Swim Team, Kiefer's company introduced the nylon swimsuit as a lightweight alternative to wool and cotton suits and cost alternative to the silk suits used at the time. The 1948 Olympic Games debut launched the revolutionary nylon Kiefer suit to create a competitive swimming standard. Mr. Kiefer continues to dedicate his life to helping swimmers of all ages and abilities pursue dreams of swimming glory. The company sponsors a full calendar of competitive swimming events and is a top competitive swim team supplier. For more about Adolph Kiefer & Associates visit, http://www.kiefer.com . For a full list of the company's 2008 U.S. Olympic swimming merchandise, visit: http://www.kiefer.com/Kiefer/dept.asp?dept_id=240 .
About the 2008 Olympics:
The United States Olympic Committee announced that those who are unable to attend the U.S. Olympic Trials for Swimming events can tune into NBC broadcasts June 29 through July 6 airing nightly from 8 to 9 p.m. (ET) on NBC. Visit the USAswimming.org site to view the Olympic Trials television schedule. For more information on the 2008 Olympics, including a day-to-day automated countdown to the kick-off of the Summer Games in Beijing and future events, visit the official web sites of the Olympic movement at http://www.olympic.org and the United States Olympic Committee at http://www.usolympicteam.com/ .
Media Contact:
Briley Bergen, Event Marketing Manager
Adolph Kiefer & Associates
Phone: 847-872-8866, Ext. 620
Email: Briley @ Kiefer.com
# # #