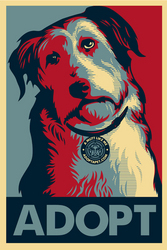 By allowing our non-profit to assist with the first family's search, Obama would not only be promoting the importance of adoption, but also providing all Americans with a way to take action nationally through our free pet search
Los Angeles, CA (PRWEB) February 5, 2009
Adopt-a-Pet.com ( Adopt A Pet ), North America's largest non-profit pet adoption website, and Artist Shepard Fairey (http://www.obeygiant.com ) today announced the sale of a limited edition run of 400 signed and numbered ADOPT silk-screen prints. Shepard Fairey, the artist whose iconic Obama print was recently declared a national treasure when inducted into the Smithsonian's National Portrait Gallery, created the ADOPT image to support Adopt-a-Pet.com's efforts to get adoptable animals out of shelters and into homes.
According to Adopt-a-pet.com's Dr. Pia Salk, who first approached Fairey with the idea for the ADOPT image, "Shepard really gets it! He shares our belief that this country's four-legged shelter residents deserve hope and progress too. And with five to seven million adoptable animals killed in the U.S. each year, it's long overdue!"
The ADOPT image featuring the Fairey masterpiece of an American mutt is cropping up on city streets in much the same way as the Obama "Hope" image did. And orders for ADOPT merchandise are coming in from all over the world.
"I am heartened to see how many people care deeply for the plight of our fellow creatures," said Fairey. "I'm glad to see that the ADOPT image has rallied such strong support for these animals."
The collaboration with Shepard Fairey was originally spurred by Obama's reference to the many dogs in shelters being, "Mutts like me." When Obama stated his preference to adopt a dog from the shelter ("a preference that will save a life," as Salk puts it), the Adopt-a-Pet.com team offered to head up the 'dog transition team' by assisting in all facets of the search and dog adoption.
"By allowing our non-profit to assist with the first family's search, Obama would not only be promoting the importance of adoption, but also providing all Americans with a way to take action nationally through our free pet search," said Salk.
The limited edition ADOPT prints will go on sale at http://www.muttslikeme.com at a random time on Feb. 6 - limit of one print per person. They will sell for $200 and all proceeds will go towards getting animals out of shelters and into homes. Other merchandise available includes t-shirts, sweatshirts, doggie bandanas and stickers.
About Adopt-a-Pet.com: ( Adopt A Pet ) (formerly 1-800-Save-A-Pet.com) is North America's largest non-profit pet adoption website, helping over 7,000 animal shelters, humane societies, SPCAs, pet rescue groups, and pet adoption agencies advertise their homeless pets to adopters for free. Adopt-a-Pet.com displays photos and descriptions of adoptable pets to over 1.5 million people seeking to adopt a dog or adopt a cat each month.
###