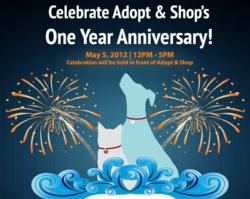 We are thrilled to say over 800 animals have been adopted since we opened a year ago.
Lakewood, CA (PRWEB) May 03, 2012
Found Animals Foundation is inviting the public to celebrate the one-year anniversary of its Adopt & Shop store in Lakewood, Calif. On May 5th, from 12 p.m. to 5 p.m., free toys and treats will be available for pets and pet owners who visit and tour the store.
Adopt & Shop features adoptable animals brought directly from the Southeast Area Animal Control (SEAACA) shelter, with the goal to reduce shelter euthanasia. Every animal that comes through the store is vaccinated, spayed or neutered, dewormed, micro-chipped and ready to go to their forever home.
"We are thrilled to say over 800 animals have been adopted since we opened a year ago," said Dr. Mark Thompson, Retail District Manager for Adopt & Shop, "Having adoptable shelter animals, helpful staff and fantastic pet products under one roof is a perfect combination."
In addition to free toys and treats, Adopt & Shop also offers a wide selection of pet food, toys, leashes, collars and tags for cats and dogs.
"Adopt & Shop has been so successful in finding homes for our pets, we're opening two more locations this year." added Aimee Gilbreath, Executive Director of the Found Animals Foundation.
The Adopt & Shop store is located at the Lakewood Mall in Lakewood, Calif. at 353 Lakewood Center Mall Lakewood, CA 90712.
For more information about Adopt & Shop and Found Animals Foundation programs contact Courtney Flynn at (310) 574-5791.
###
About Found Animals
Found Animals Foundation is a privately-funded Los Angeles-based non-profit organization dedicated to animal welfare issues. Led by business and medical professionals, the Foundation works directly within the animal welfare community to reduce the use of euthanasia in shelters by supporting programs including: pet adoption, spay and neuter services, pet identification, and sterilization research.