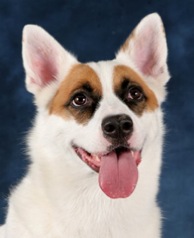 No one guessed that someone having the courage to save this dog's life could lead to a wave of dogs and cats being saved.
San Diego, CA (PRWEB) December 20, 2011
The Save a Dog Day organization has come up with a way to potentially save the lives of innocent cats and dogs by shining the spotlight on an epidemic of euthanasia that is all too common at our nation's animal shelters. In order to bring awareness to the need for pet adoption during the holidays and beyond, SaveADogDay.org has enlisted the help of a rescue dog, named Sasha, who stars in a 2012 Super Bowl commercial called "Good Doggie." The Save a Dog Day organization is dedicated to encouraging people to rescue dogs, sharing pet adoption success stories, as well as providing links to valuable information for those looking to adopt a dog.
Sasha was an abandoned dog spending her days at a shelter with little chance of being rescued. She was past the cute puppy stage, and as animals get older the odds of the animal's life being saved decrease dramatically. No one guessed that someone having the courage to save this dog's life could lead to a wave of dogs and cats being saved. After Sasha was adopted, her new owner took the time to work with her and supported her through the training and socialization process.
All of Sasha's work paid off when she auditioned for a potential 2012 Super Bowl commercial titled "Good Doggie" and was cast by director De Veau Dunn and producer Nicholas George. Sasha's commercial is currently in the Top-5 most viewed videos out of nearly 4000 entries in the 2012 Doritos Crash The Super Bowl commercial contest. "Good Doggie" can be viewed at http://www.crashthesuberbowl.com by searching the most viewed 2012 Super Bowl commercial entries in the gallery. Sasha's parents donate a portion of everything she earns toward saving the lives of other dogs and cats that are currently living the often lonely and desperate animal shelter existence.
When you visit the Save a Dog Day organization's website, participation is free. The organization does not collect any money whatsoever. Instead, they encourage their supporters to "click for a cause" by spreading the message through various forms of social media. This approach is highly effective in bringing mass awareness to a situation that, sadly, is all too often overlooked. According to the Humane Society of the United States, an estimated 3-4 million dogs and cats are euthanized by shelters each year.
"Good Doggie" director, De Veau Dunn, is also very passionate about dog adoption and encourages people to look into adopting a dog as a loving alternative to going out and buying a dog. When the producer/director duo of George and Dunn co-wrote "Good Doggie," Dunn wanted to somehow get the message out to adopt a dog. "Good Doggie" has been getting a great deal of exposure, but due to time constraints the director's cut is the only version of the 2012 Super Bowl commercial which includes a call to action message in support of rescue dogs. This version is only available on De Veau Dunn's YouTube channel.
Ironically, Sasha's performance has propelled "Good Doggie" into the spotlight, but the fact that Sasha is an adopted rescue dog brings awareness to the need for dog adoption, so the video seems to really be serving a greater good. If you would like to make a difference this holiday season, please visit: SaveADogDay.org and sign up for the Save a Dog Day movement. They do not ask for money, just your help in supporting these often-helpless creatures through watching short videos and clicking or leaving comments. This simple act on the part of supporters is making a huge impact by helping the movement gain popularity and bringing much needed awareness to the pet over-population situation.
###