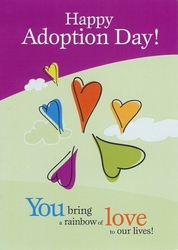 It's always very rewarding to get email comments from people who have visited the website, letting me know how thrilled they are to have found a place to get this kind of card.
Philadelphia, PA (PRWEB) May 11, 2010
The adoption process and other endeavors related to adoption, such as celebrating adoption finalizations, adoptions of older children, and overseas adoptions, are cause for celebration. AdoptionCardShop.com, catering to adoptive parents, adopted children, biological parents, and adoption professionals, announces an expanded line of adoption day cards, announcements, and invitation options.
"Orders for our adoption cards come from people throughout the United States and several foreign countries. With every order I receive, I continue to be amazed and excited to be able to share my idea with so many people in so many places, and to put smiles on so many children's and parent's faces. For many families, adoption is truly a miracle to be celebrated," says Pat Bubb, owner and creator of AdoptionCardShop.com.
Adoption Card Shop is happy to be part of the celebration, providing cards designed for the unique circumstances surrounding adoption, such as:

Adoption Day cards
Gotcha Day cards
Adoption finalization and congratulations
Adoption Announcement and Shower cards
Birth Mother's Day cards
National Adoption Day cards
Adoption reunion cards
New products at AdoptionCardShop.com include simple adoption day celebration items, such as balloons imprinted with "Happy Adoption Day". Owner Pat Bubb is committed to providing the extra touches for adoption celebrations and "anniversaries of the heart."
"It's always very rewarding to get email comments from people who have visited the website, letting me know how thrilled they are to have found a place to get this kind of card; or they may ask us to see if we have something they didn't see on the website. In fact, some of our best ideas come from families who tell us, 'I know that you are a card shop, but do you have Happy Adoption Day balloons?' Within a few weeks I had balloons on my website," explains Bubb.
Not only are the cards available online, but Adoption Card Shop attends adoption conferences, showcasing and selling these cards. The conferences help Adoption Card Shop interact with the adoption community, so that they can create and provide more exclusive designs and sentiments. According to Bubb, the cards also bring a remarkable response from conference attendees who have been discouraged while searching for appropriate adoption card options at local retailers.
Adoptive parents, families, adoption professionals and anyone affected by the adoption process in some way can visit AdoptionCardShop.com to view all selections.
About Adoption Card Shop:
Adoption Card Shop grew from the creative ideas of Patricia Bubb, an adoptive parent, who started Hawkfeather Creations, designer of "Happy Adoption Day" cards. As early as 1968, Pat had made her own cards to celebrate the anniversary of the day her children arrived in the family. She gave cards to her children as they were growing up to make them feel special, and to accentuate the positive--making sure that they knew they were adopted and could ask questions about their background. Even as adults, they continue to appreciate getting a card on their adoption day. Since leaving a long career in private school administration, it seemed ideal to devote more time to the adoption cards. The website has since expanded to include a larger selection of cards for the whole adoption community, and has been rebranded as Adoption Card Shop.
###