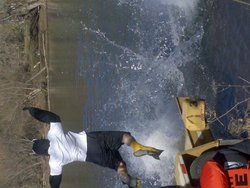 Depending on how bad the frost bite is, it may be my last.
Maryville, Tenn. (Vocus) February 20, 2010
More than 50 adoption advocates braved the chilly waters of the Little River in Blount County bringing awareness to the hundreds of children waiting to be adopted in Tennessee. This is the third year that Harmony Adoptions, one of the state's leading adoption agencies, is hosting Chillin' for Children held at 3 p.m. on Friday, Feb. 19 .
Dressed up in themed costumes, groups of people who are all connected to adoption in some way jumped into freezing cold water while being judged on creativity and style. Pam Wolf, CEO of Harmony Adoptions, said, "By raising some eyebrows, we're raising awareness for adoption as we take the plunge together." Blount County Mayor Jerry Cunningham and City of Knoxville Mayor were on hand. Mayor Haslam delivered the pre-plunge address.
As much as Chillin' for Children raises awareness for the 400+ children currently in state custody, this event also strengthens the partnerships of the agencies that work together to find permanent homes for these foster children. Harmony Adoptions Community Development Director, Jim Norwood said, "As adoption advocates, we come together as colleagues sharing our success stories and challenges, but after this event, we leave as friends." Norwood believes that spirit of togetherness makes a difference when a child's future is in their collective hands.
Brian Buuck of Oak Ridge jumped for the first time. "Depending on how bad the frost bite is, it may be my last," kids Buuck. Adoption is close to Buuck's heart, as someone who worked in a foster care program and whose sister adopted her son, Alex. Buuck is now the COO of Ridgeview Mental Health. "The discomfort of a few seconds in the ice cold water fails in comparison to what children without a home experience."
The following agencies joined Harmony Adoptions for Chillin' for Children this year: The Department of Children's Services (DCS), Camelot Care Centers, Health Connect, Helen Ross McNabb Center, Holston Homes for Children, Omni Visions, Ridgeview Mental Health, Tennessee Alliance for Children and Families and Youth Villages.
The Blount County Rescue Squad was on hand to assist if needed. Starbucks in Maryville provided hot chocolate and coffee and Anderson Rental supplied a generator and heaters.
###