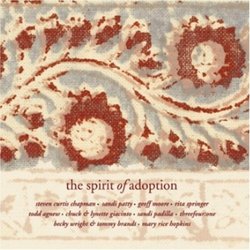 Chicago, IL (PRWEB) September 20, 2008
Throughout the last few years, attention towards adoption both domestically and internationally has risen to astronomical heights, prompting everything from major television coverage to a rise in celebrities and entertainers making the tender topic a key platform. But even with the elevated awareness, there's been a general void in having a line of artistic music expressions to match these delicate moments where a family opens its arms in loving embrace to a brand new family member.
Thankfully, that has all changed with the launch of Adoptive Music, a new line of adoption themed songs inspired by the first hand observations of Chuck and Lynette Giacinto, acoustically framed musical performers who recently took home their daughter Dani from China. Although those names might sound familiar after finding fame within the contemporary Christian group Final Quest (who've opened for Third Day, Jars of Clay, and The Newsboys to name a few), the duo's focus these days is furthering this unique brand to believers and beyond.
The first title in the series already hit the streets under the apt title Lullabies For China's Daughters and Their Adoptive Families, tracing the Giacinto's journey through a series of songs shaped as letters to the little girl who would become their future daughter. Its follow-up The Spirit of Adoption was framed around an all-star compilation featuring like-minded tracks by several major artists touched by the topic (such as Steven Curtis Chapman, Sandi Patty, Geoff Moore, Rita Springer and Todd Agnew), along with the couple's now classic original "The Greatest of These."
This fall also finds Adoptive Music's most ambitious offering to date- the CD and storybook combo set Polly and Me, geared around the fictional story of a little girl in a Chinese orphanage and its subsequent soundtrack. Across vibrant illustrations that showcase loving characters with larger than life personalities, the text trace's the child's adventures with a stuff panda name Polly that comes to life after being sent in a care package from her future family. Outside of entertaining youngsters and parents alike, the story provides a perfect catalyst to start introducing lines of communication with children about their adoptive story.
"Though we've just started spreading the word about Adoptive Music, the response has been absolutely overwhelming," offers Chuck Giacinto of the revolutionary brand. "We've received countless letters and emails from listeners and adoptive families who've been searching for this topic either in song or now story format and they've told us it's filled a tremendous need for their families. We can also verify first hand how these songs have shaped our own lives with our children and have been astounded by their ability to resonate with those who've come in contact with them thus far."
###