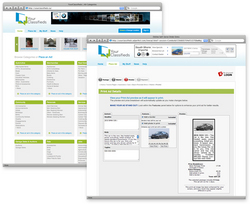 "...overall revenue is up 38% on print ads," Crandon explains. "This is a good indicator of what's to come."
(PRWEB) February 7, 2011
AdPerfect, a leader in providing local advertising and classified solutions, has successfully launched Metroland's online classified portal, YourClassifieds.ca. YourClassifieds.ca leverages AdPerfect's suite of Classified Advertising Solutions including: Self-Serve Order Entry, Print-to-Online, and Online Marketplace.
The goal of YourClassifieds.ca is to make it easy for advertisers, both private and business, to place items for sale and for consumers to simply find goods (Metroland Media Group). Metroland's existing system wasn't powerful enough to fulfill this goal, and with overwhelming costs to build a solution internally Metroland was looking to outsource.
After extensive research Metroland executives sourced AdPerfect. "We definitely did our due diligence. We looked at six other vendors before deciding to go with AdPerfect," said Beverly Crandon, Director, Generalist Classifieds, Metroland Media Group.
In AdPerfect Metroland found comprehensive technology that was flexible enough to meet their unique business needs for their 100+ newspapers. Additionally, AdPerfect's solution offered features to meet their current and future strategy, such as aggregation, faceted search, social sharing, search engine optimization and membership matching with single sign-on via Facebook Connect.
When asked how the overall launch went and how her experience with AdPerfect has been Crandon noted, "AdPerfect's team is very responsive. If we had a concern, someone on your team was quick to respond and there was always great communication throughout the process."
Enabling various upsells, such as standard enhancements like adding additional run days or lines of text, photos or attention getters in print, and unique online upsells such as featured listings and top ads enhancements, AdPerfect's Classified Advertising Solutions provide YourClassifieds.ca advertisers multiple ways to promote and differentiate their ads, and Metroland the opportunity to monetize on classifieds ads.
"I just pulled a report this afternoon, and already our ad count is up on this system, compared to last Friday at the same time, and overall revenue is up 38% on print ads," Crandon explains. "This is a good indicator of what's to come."
To learn more about AdPerfect's Classified Advertising Solutions visit http://www.adperfect.com/solutions/classified-marketplace-solutions/free-model/.
About AdPerfect:
AdPerfect offers comprehensive yet configurable advertising solutions designed to achieve maximum revenue for media publishers. Our web-based applications reduce costs, simplify workflows, and increase ROI.
Our suite of solutions include: Classified Advertising Solutions, which let your advertisers place classified & display ads through a Self-Serve Order Entry as well as promote classified listings using the Online Marketplace; Reverse Publishing Solutions, which leverage existing online listings and reverse publish them to print, online & mobile platforms Online Advertising Solutions, which publish existing online inventory to dynamic, inventory-driven ad units.
AdPerfect's solutions are used by over 350 media publishers across North America, the UK, and Australia. Some customers include: McClatchy, NY Times Regional Media Group, Metro Group, Postmedia, Boston.com, Apartments.com, Post Gazette, Cars.com, AutoTrader UK, and Metroland Media Group.
# # #