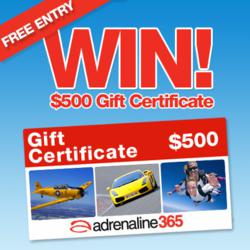 The sweepstake winner will embark on a thrill of a lifetime.
Chicago, IL (PRWEB) November 15, 2012
To celebrate its recent launch in the United States, experience company Adrenaline365 is giving away a $500 prize to one lucky adrenaline junkie.
The gift certificate can be used towards anything on Adrenaline365.com, which is quickly becoming a hub for extreme adventure enthusiasts.
The winner will be able to redeem the certificate online, through the site's easy-to-use booking system, by choosing from a range of experiences nationwide.
Adrenaline365's adventures include:

Hot Air Ballooning,
Race Car Drives & Rides,
Sports Car Track Days,
Jet Fighter Flights,
Flyboarding,
…and more!
Their diverse and extreme range of experiences ensures that the sweepstake winner will embark on a thrill of a lifetime.
You can enter here until December 23rd, 2012. With over one month left to enter the contest, there's plenty of time to find your favorite experience on their website.
Adrenaline365 will announce the sweepstake winner on December 24th, 2012.
----
About Adrenaline365
Adrenaline365 is a leading supplier of awesome Experience Gifts. For almost 20 years, they've been helping people discover unique and thrilling Gift Ideas like Skydives, NASCAR drives, and even flights to the edge of space! Recently launched in the U.S., Adrenaline365 is quickly gaining traction with American sports enthusiasts.
The group offers over 2,000 of the best adventures across the US, Australia, New Zealand, and the world, so there's something for everyone. If it's an experience worth having, you'll find it at Adrenaline365.
To book an adventure or buy an instant gift certificate this Christmas, visit Adrenaline365.com or call 1-888-992-3736.