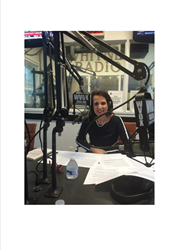 An increasing number of people are going bankrupt due to excessive medical billing.
(PRWEB) May 31, 2016
In a recent interview on The Greenburgh Report radio show hosted by Greenburgh, NY Town Supervisor Paul Feiner and broadcast on New Rochelle, NY-based WVOX (1460 AM), leading medical insurance advocate Adria Goldman Gross discussed several eye-opening issues that have combined to create what she calls the country's "modern medical money maelstrom."
During the interview with Mr. Feiner that aired on May 7, 2016, Ms. Gross, the CEO and founder of MedWise Insurance Advocacy and author of the acclaimed book "Solved! Curing Your Medical Insurance Problems," highlighted that:

An increasing number of people are going bankrupt due to excessive medical billing.
In many cases, people are being vastly overcharged -- yet have no idea.
Contrary to popular belief, only about half of doctors working in specialized hospitals accept any type of health insurance.
People whose coverage is provided by a self-insured corporation, and who seek non-emergency health care from an out-of-network provider, can wind up with bills that are dramatically higher than they expected.
People with insurance need to proactively find out what their insurance company is going to pay – because while many companies use Medicare rates as their baseline, some use lower Medicaid rates.
Hospitals are notorious for over-testing, which translates into bills that are far higher than necessary.
People should compare the procedure code for each item that appears on their bill with the Medicare Fee Schedule, in order to discover the customary charge. Armed with this data, they can make an offer to their provider that will be accepted in the majority of cases.
When it's safe to do so, people should choose urgent care rather than going to the hospital, where the bills are going to be tremendously higher.
When going to the hospital is unavoidable, people should try to take a relative or friend with them, and ask them to take meticulous notes of the doctors involved and what they do.
Many hospitals aren't telling people if they're admitted as an inpatient or outpatient under observation. If it's the latter, they aren't covered for Medicare Part A, which includes hospitalization and medication.
On this last point, Ms. Gross shared the example of a 50-year old security guard from New Jersey who was hospitalized for three days. After getting discharged, he received a $50,000 bill as he was deemed an outpatient under observation. His insurance company was only willing to pay $50. Terrified and with only $600 in the bank, he contacted Ms. Gross, who on a pro bono basis offered some advice that has helped him cut the bill by $32,000. Ms. Gross added that she's in the process of trying to get all of the providers written off, and is confident that will happen.
Added Ms. Gross: "It was an honor and pleasure to be interviewed by Paul Feiner. He has been in office for 25 years, and his commitment to community service is both impressive and inspirational. Putting an end to modern medical money maelstrom will take a while, but with leaders like Paul helping shed light on key issues that directly impact the quality of life for million of Americans in every state, we are moving closer to that goal."
More information on Ms. Gross is available at http://adriagross.com, and more information on her company MedWise Insurance Agency is available at http://medicalinsuranceadvocacy.com.
About Adria Goldman Gross
Adria Goldman Gross, FIPC, is the CEO and founder of MedWise Insurance Advocacy, as well as a New York State-licensed insurance broker and consultant who uncovers discrepancies in diagnostic or procedure coding, exposes dubious loopholes through which insurance companies attempt to deny claims, and helps attorneys, individuals and families resolve medical claim matters. She is also a bestselling co-author of books that are both endorsed by consumer protection advocate Ralph Nader: the recently-published Solved! Curing Your Medical Insurance Problems, and Multi-Payer Medicine Nightmare Made in the USA. Both books are available from Amazon.com and BN.com.