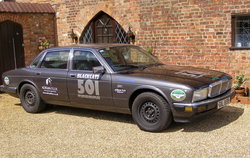 We were pioneers in insuring LPG conversions in the early days
(Vocus) September 22, 2008
Adrian Flux Insurance Services are co-sponsoring 'The Black Cats', one of the teams in this year's Staples to Naples continental banger rally.
Starting on September 19th, in aid of Cancer Research UK, the route runs 1400 miles to Italy over four days. 'The Black Cats' - aka Norfolk Jaguar enthusiasts Barry Ayres and Neil Schofield - are breaking new ground in the banger rally racing in September with a 20 year old car running on LPG.
The rules of the Rally are that your car mustn't have cost more than £100 to buy, and while you must obviously ensure it's roadworthy and properly maintained and insured, you mustn't improve its performance.
Being founder members of the North Norfolk branch of the Jaguar Enthusiasts Club, Barry and Neil could hardly be seen in any car other than a Jaguar. So they cast around for an unwanted Jag, and found a 1988 XJ6, which had been left to rot in an orchard in Dersingham for several years.
Despite its age and neglect, the car proved to be in remarkably good condition, and needed little maintenance to make it roadworthy again. However, with the rise in petrol prices, the likely cost of driving across Europe in an old and thirsty saloon - for all its style - would raise costs and threaten the viability of the rally.
Barry and Neil hit on the idea of converting it to LPG (liquid petroleum gas). This is not for improved rallying capabilities - if anything it actually reduces the performance - but to improve fuel consumption by over 50% and reduce carbon emissions dramatically over the four-day, 1400-mile event.
Nowadays LPG sounds like a great idea to cost-conscious and eco-friendly drivers. But until comparatively recently, insuring such a vehicle was a problem - particularly if, as with The Black Cats, it was a retro-fit.
"We were pioneers in insuring LPG conversions in the early days", says Gerry Bucke, Commercial Director of Adrian Flux.
"They are now more common, but for some reason, until quite recently, LPG had a bad name with many insurers, probably because the cars themselves weren't 'standard' and many insurers would jack up the premiums.
But we are perfectly happy that an LPG car is just as good a risk as any other car, and of course there are the lower running costs and environmental benefits. So when we learned of Barry and Neil's plans we were happy to sponsor them."
In the 'Staples to Naples', which has been running since 2003, many teams sell their cars once they reach the finishing line and return by air, by train, or with friends. Barry and Neil say they won't have the heart to get rid of the XJ6. Instead they hope to take it to Jaguar meetings and other events, still in its 2008 Staple To Naples livery.
Adrian Flux aims to offer cheaper car insurance and has a huge range of policies for the motoring enthusiast. For details contact the Adrian Flux quote line on 0800 505 3000, email the company at quotes (at) adrianflux.co.uk, or see the Flux homepage on http://www.adrianflux.co.uk
PRESS ENQUIRIES:
Toni Turner or Alison Haynes at The Publicity Works
Tel: 01263 761000 Email: flux (at) publicityworks.biz
Gerry Bucke of Adrian Flux Insurance Services: 0800 505 3000
###