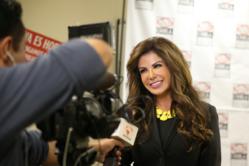 "Just like most of these people I came to this country to work for a better future," said Mrs. Gallardo.
Los Angeles, CA (PRWEB) April 30, 2013 (PRWEB) May 01, 2013
Adriana's Insurance has been in business for over 20 years and is one of the biggest insurance brokers in Southern California! They have been helping individuals, families and businesses find insurance policies they need at the lowest rates possible. They are excited to help gather people for the May 1st march in Los Angeles at 12:00 pm at the corner of Olympic and Broadway. To see the promotional video you can visit http://bit.ly/ZjLf8A
This event is one of the most important in the United States and it's not only celebrated in Los Angeles but also in many other cities around the country. This year will be very special due to the work Adriana's Insurance is doing along with CHIRLA (Coalition for Humane Immigrant Rights of Los Angeles). Yesterday Adriana gave a special speech at the press conference that CHIRLA organized with Grammy winners groups, graphic artist and media personalities to call on the people from Los Angeles to come out and march May 1st.
Adriana's Insurance will be present the day of this event, they have modified one of their advertising trucks with two 10x20 feet banners promoting the day of the march and inviting more people to participate in it. They will be promoting the event in different media such as: radio and social media.
https://www.facebook.com/AdrianasInsuranceServices
Adriana's Insurance wants to continue to spread their business philosophy: insurance at a low cost with the best service. The continuous growth of this company has allowed Adriana Gallardo, CEO of Adriana's Insurance, to contribute to the needs of many communities through-out Southern California and has been involved in many activities to help the ones in need. On April 18th, Mrs. Gallardo was present at CHIRLA's Spring Gala which brought together hundreds of community leaders, politicians, advocates, and organizations to celebrate the contributions of immigrants and their allies. To find out more about Adriana's Insurance participation and the CHIRLA organization, visit: http://www.chirla.org/Gala2013_RSVP
Adriana's Insurance wants to continue helping the residents of Southern California and therefore, "Just like most of these people I came to this country to work for a better future," said Mrs. Gallardo. She has become a recognized figure not only in Corporate America, but also with many communities. To inquire about her social work, events, and various news articles, visit her official website at: http://adrianasinsurance.com/about_adrianas/news/
Adriana's Insurance has more than 50 locations throughout Southern California and is eager to meet all of your insurance needs. Visit them at: http://adrianasinsurance.com