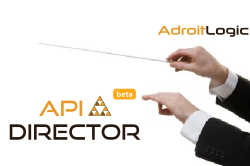 The APIDirector is a hybrid solution capable of supporting any of the transports and protocols supported by the UltraESB
Singapore (PRWEB) August 21, 2012
AdroitLogic Private Ltd. announced today the launch of APIDirector, an API management solution based on its free and open source Enterprise Service Bus, UltraESB. The APIDirector will provide credential management, service logging, auditing and performance management support, coupled with an easy to use graphical administration interface with reporting and analytical features. In addition, the underlying UltraESB will facilitate mediation of messages passing through the solution, so that routing, transformation and predefined or custom actions can be applied. The APIDirector is planned to be generally available from the 1Q of 2013, with a private beta program being available from August 2012.
"Unlike typical API management solutions targeting only the HTTP protocol, the APIDirector is a hybrid solution capable of supporting any of the transports and protocols supported by the UltraESB" said Asankha Perera, Founder and CTO of AdroitLogic. "This means that the same solution can be utilized to define and manage internal service interactions within an organization, as well as its externally exposed APIs and services". AdroitLogic also includes the functionality of its publicly hosted AS2Gateway, as an optional module within the APIDirector solution. This allows organizations utilizing the widely used B2B trading protocol AS2, to manage its AS2 based services and interactions with ease, as well as host a private AS2 Gateway, for use by their partners and users.
Earlier in August, AdroitLogic announced performance benchmark results for its ESB in comparison to 8 other free and open source ESBs, using an open benchmark. The results showed the extreme stability of the UltraESB in addition to its lead on performance. Performance and stability are key aspects of any API management solution, as it will be the first point of entry to possibly thousands of incoming requests to an organization, including deliberate security attacks at the application layer.
For more information about the APIDirector solution, and to participate in the beta program please contact AdroitLogic at info(at)adroitlogic(dot)com
About AdroitLogic
AdroitLogic Private Ltd. founded in January 2010, is a privately held innovative technology company based in Singapore, that believes in, and proves, that better design and clever code yields much better software. AdroitLogic is driven by an exceptional team of integration experts with many years of ESB development experience, and backed by the dedication and commitment of its founders, who are personally involved with the design, development and support of its products.