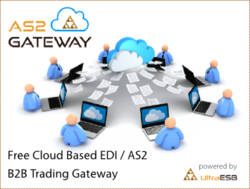 The underlying Enterprise Service Bus UltraESB, is the key differentiator of the B2B gateway
Singapore (PRWEB) June 20, 2012
AdroitLogic Private Ltd. announced today the launch of AS2Gateway, a Cloud based Business-to-Business (B2B) trading gateway based on its free and open source Enterprise Service Bus, UltraESB. The AS2Gateway provides SMEs an easy to use web based interface with additional connectivity, translation and electronic invoicing options, to exchange EDI, XML and other types of business documents with their trading partners. The Cloud based offering includes a free tier adequate for many smaller suppliers, and scales to support large organizations, saving investments in hardware, software, maintenance and Value Added Network (VAN) usage. The Internet based AS2 protocol is widely used in the Retail and Manufacturing industries in North America, Europe and Asia, and offers secure and reliable message exchange with signed delivery receipts.
"The underlying Enterprise Service Bus UltraESB, is the key differentiator of the B2B gateway, and allows powerful EDI translations and integration capabilities between multiple transport protocols and message formats, utilizing the native ESB capabilities", said Asankha Perera, Founder and CTO of AdroitLogic. The UltraESB is the free and open source ESB that supports the AS2 protocol natively, and is currently being used by multiple organizations for B2B integration with some of the largest retailers and trading partners, especially in Europe. The AS2Gateway free-tier allows the exchange of upto 60 messages with upto 5 trading partners each month. New account and trading partner registrations, and powerful certificate management capabilities are made available free of charge to all users, while premium subscribers will enjoy enhanced message and partner limits, security, notifications, reporting and professional support. The AS2Gateway is also offered as a private on-premise solution for large organizations, with virtually limitless ESB level mediation, routing, logging, reporting and integration capabilities against other internal systems and Line of Business applications.
Support for EDI document generation and processing without external EDI software will be made available through the AS2Gateway in the weeks ahead, via web based forms and interfaces. Premium users will also be able to interface with S/FTP, as well as a Web Service API and other interfaces, and have support for automatic conversion of documents between EDI (X12/EDIFACT) and non-EDI formats such as XML, CSV, JSON and Fixed Length.
AS2 (Applicability Statement 2) is the leading industry standard protocol for the secure exchange of business documents between trading partners over the Internet. Electronic Document Interchange (EDI) messages such as those based on the ANSI X12 (US) and UN/EDIFACT (Europe, Asia) formats are exchanged electronically between trading partners in efforts to automate B2B trading using the Internet as an interconnection medium over expensive and older Value Added Network (VAN) technologies. AS2 software has often been expensive to license, and maintain, and limited in features to support EDI translations, and integration with other systems.
About AdroitLogic
AdroitLogic Private Ltd. founded in January 2010, is a privately held innovative technology company based in Singapore, that believes in, and proves, that better design and clever code yields much better software. AdroitLogic is driven by an exceptional team of integration experts with many years of ESB development experience, and backed by the dedication and commitment of its founders, who are personally involved with the design, development and support of its products.