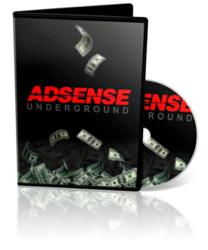 With online advertising revenue hitting all-time highs, more people are looking to launch their own websites and get a piece of the billion-dollar pie.
Phoenix, AZ (PRWEB) June 18, 2012
Adsense Underground is set to unveil a new product aimed at helping users build revenue through advertising. The product was developed by entrepreneur Joshua Donchi and provides users with ready-to-publish sites, optimized to run Google Adsense.
According to a study published this week by PricewaterhouseCoopers, Internet ad revenue reached new heights at $8.4 billion in just the first quarter of 2012. The time is ripe to own a website and pull in revenue simply by placing ads on a web property.
Adsense Underground offers three separate packages of ready-made blogs and websites - already keyword optimized to improve search engine results. Customers purchase a set of 5, 10 or 25 websites that are ready to be published. Users only need to load the sites onto their own hosting to go live.
With online advertising revenue hitting historic highs, a lot of people are looking to break into the industry and tap into a rapidly-growing market. Donchi says Adsense Underground gives ordinary people the tools to get a piece of the billion-dollar pie.
Visit the official website here for all the details.
Google makes billions of dollars in advertising revenue, but what many people don't know is the web publisher (website owner) actually gets a bigger cut of advertising revenue than Google. For example, every time someone clicks on a website ad, the website owner gets 60 percent of the money, while Google only takes 40 percent.
Adsense Underground will not only take care of the design and setup of the websites, it will ensure ads are always placed to maximize revenue and give your website readers quality advertising that relates to their searches. Donchi also provides lessons on how to set up hosting, edit website content, and he's even offering a free e-book filled with tips to help pull in large amounts of traffic.
For those that are ready to buy the program should visit Josh's site here.
To learn more about how to earn revenue with contextual advertising visit the official site here.