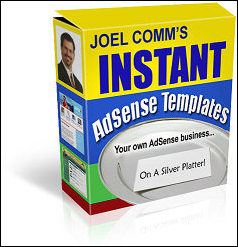 What I've found is that there are a few obstacles involved (in earning income from AdSense)
Edmond, OK (PRWEB) June 29, 2006
Best-selling author and Internet entrepreneur Joel Comm has announced a July 5th launch date for his latest product, Instant AdSense Templates.
After the success of his recent book, The AdSense Code (Morgan James Publishing, 2006), which was a "top seller" in three categories on Amazon.com, Comm decided to branch out and develop a hands-on system to coincide with the methods taught in the book.
Instant AdSense Templates is a collection of website templates and tools, designed to enable webmasters to quickly and easily launch websites with Google AdSense integrated into them.
Included in the package are templates for niche websites, Wordpress and Blogger blogs, Invision BB, PHPBB and VBulletin forums, as well as specialty templates designed to be used with XSitePro software.
While many of Comm's readers have found success, some have struggled due to the technical aspect of online business.
"What I've found is that there are a few obstacles involved (in earning income from AdSense)," says Comm. "Particularly for those who aren't webmasters or don't know how to build a website. That's why I created Instant AdSense Templates."
The premise of the product is to make it simpler for webmasters and aspiring marketers to earn money with AdSense, and to cut down on the learning curve that comes with the territory.
According to Internet marketer Liz Sherwood,
"His templates make it dead easy to not only get your sites on the web, but to get the benefit of his experience in their layout."
In order to avoid market saturation, Comm will be releasing Instant AdSense Templates in a limited run of 2000 copies, which will be sold on a first-come, first-served basis.
For additional information, visit http://www.instantadsensetemplates.com
Joel Comm is a socially conscious Internet entrepreneur and technology visionary who creates family friendly web experiences while showing people how to earn income online. Recognized by many as the leading expert in Google AdSense, Comm's materials have helped thousands discover the strategies to multiplying their income with AdSense. For more information contact InfoMedia, Inc. at (405) 348-2800 or visit http://www.joelcomm.com.
###