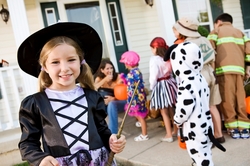 New York (PRWEB) October 27, 2009
Costumes, candy and friends make Halloween one of the most exciting holidays of the year for children. But with this Halloween falling on a Saturday, it's especially important for parents to make safety part of the holiday activities. The number of Halloween motor vehicle fatalities increases by 30 percent on average when Halloween falls on a weekend as compared with other days of the week, according to the National Highway Traffic Safety Administration (NHTSA).
All Home Security, a leading online resource for the best in home security and safety, has put together the following safety tips for kids and parents this Halloween.
Choose the right costume - Only wear masks that are extremely well-fitted. Loose masks can prevent children from seeing clearly which is especially dangerous if they're frequently crossing the street. Face paint is the safer option. Also opt for flame-resistant clothing, wigs and other accessories.
Stay visible - Children should carry flashlights and wear costumes that make them visible to others on the road. Fun options include carrying glow sticks, wearing glow-in-the-dark face paint or putting on reflective stickers.
Stick together - Trick-or-treaters should always walk with a group. If kids are old enough to trick-or-treat without adults, make sure the group of children is large enough that no one will end up alone. Children should use a sidewalk and follow safety basics like looking both ways before crossing the street and only visiting houses that are well-lit and familiar.
Hold off on the candy - Kids should always wait until they get home to open and eat Halloween candy. Once parents inspect and remove any pieces that are unwrapped or appear to have been tampered with, candy should be safe to eat.
Drive with caution - Halloween drivers need to use extreme caution and should watch for children on all roadways. Pull in and out of driveways and side roads slowly and carefully and watch for children in dark clothing in the evening.
These tips were brought to you by All Home Security, a leading online resource for the best in home alarm monitoring and home security systems.
# # #