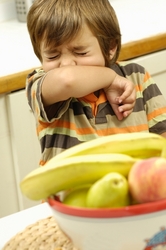 Charlotte, North Carolina (PRWEB) September 30, 2009
With a White House report estimating that 30 to 50 percent of the American population could become infected with Swine Flu (H1N1 virus) this flu season, keeping families healthy is more important than ever. Security Choice, an online resource for home security systems and safety information, offers the following home safety tips to help prevent the spread of the flu.
Scrub away germs - Encourage the entire family to regularly wash their hands with soap and water - especially after coughing or sneezing. Tell kids to count to 20 (or sing Happy Birthday twice) before they stop washing.
Focus on kitchens and bathrooms - Clean kitchen counters and other surfaces in the home using disinfectants. Avoid germs in the bathroom by regularly cleaning and keeping toothbrushes in a safe spot. Store them on their own instead of in a cup or holder with toothbrushes belonging to others.
Educate kids on germs - Tell kids to avoid touching their nose, eyes and mouth. It's one of the main ways germs spread. They should also avoid contact with other children who are sick.
Remember the basics - Covering the mouth and nose when sneezing or coughing is essential. Use a tissue or cough into the arm or elbow to keep germs from spreading to others. The flu spreads when germs are passed along after someone coughs or sneezes.
If someone gets sick - If a family member gets sick, make sure they stay home and limit their contact with others. If possible, keep the sick family member in a room with its own bathroom. People with flu symptoms should not return to school or work until their fever has been gone for 24 hours.
For more information on home security systems and home safety, visit http://www.securitychoice.com .
*Statistic from President's Council of Advisors on Science and Technology.
###