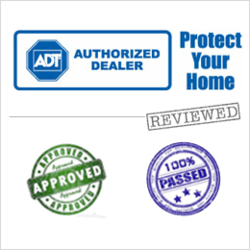 Getting precise costs associated with a security system can be a hassle, so we're simplifying things for consumers by giving them a way to get the best quote possible.
Philadephia, PA (PRWEB) February 01, 2013
The leading consumer home security and alarm system review site, SecuritySystemReviews.com, made an announcement today that they are adding additional functionality on their awarding winning security system consumer reviews website to help customers have access to even more helpful information about all of the top home security systems in the country, as well as all of the nationally recognized security monitoring service providers included in its review library.
In particular, the company highlighted new "Request a Quote" feature for the well known and highly popular ADT Security company. The Request a Quote feature allows customers to enter a small amount of information regarding their home and then receive instant access to pricing information on all of the different security equipment packages and monthly monitoring services for which they qualify.
Executives at SecuritySystemReport.com also indicated that similar instant quote features will be rolled out for all of the participating security system and service providers that have qualified for ranking on the company's website. The process will begin with the companies that flesh out the company's annual 2013 ranking of best overall home security companies, which include—in addition to ADT Security—FrontPoint Security, Protect America, Vivint Security, and lifeShield Home Security.
"We've always included some element of pricing and affordability information on our web site. We know that is one of the most factors in determining whether a home security system is a good fit for any particular customer," said Tim Eveler, head of public relations for the SecuritySystemReviews.com company. "But what we also heard is that there are a lot of deal and coupon sleuths out there, a lot of people who watch prices and want to pounce at exactly the right moment. It's for those people who are interested in taking advantage of temporary security system coupons and other short term specials."
Interested readers and potential customers can read more about ADT Security, test its instant quote feature with no obligation, read reviews, compare home security systems, or find out more about the best alarm systems and the security system industry in general by accessing all of the content on SecuritySystemReviews.com. All reviews, articles, and other content is made freely available for readers without obligation or registration.
About SecuritySystemReviews.com
SecuritySystemReviews.com, a leading online company in the home security system reviews and consumer review publishing field, hosts and publishes content for a high traffic website with contributions from many of the industry's top home security and alarm system specialists. The company's investigators, fact checkers, and consumer review specialists work on an ongoing basis to guarantee that all of their reviews, recommendations, reports, and other consumer facing content are carefully fact checked and packed full with as much independently sourced and verified information as possible to ensure that security system customers can make the security provider choice that's the right fit for them. SecuritySystemReviews.com also publishes annual rankings of the top security systems for home use, as well as the best DIY security systems, the leading wireless security systems, top cellular based monitoring systems, and even the best security systems with home automation functionality.