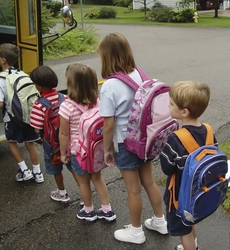 Charlotte, N.C. (PRWEB) August 11, 2009
As millions of kids anticipate going back to school, parents look for ways to keep them safe. Security Choice offers the following tips for a safe return to school:
1. Plan a safe route - Whether your child walks to school, rides a bike or strolls to the bus stop, map out the most direct trip possible. Do an initial walk-through with your child and make sure he or she doesn't walk alone - find a friend, parent or family member who can make the trip too.
2. Keep your kids informed - Ensure your child is prepared in case of an emergency. They should know their address, telephone number and full name (for younger kids).
3. At the Bus Stop - With more than 26 million kids taking the bus to school each day*, bus stop safety is extremely important. Kids should follow these three tips: Always look for traffic before stepping off the bus. Always wait for the driver to signal you before crossing in front of the bus. Never walk behind a school bus.
4. Bullying -Talk to your kids about bullying. Make sure they feel comfortable telling you or their teacher about any problems that arise. Keeping an open line of communication is essential.
5. Avoiding strangers - Create a plan for your child explaining what to do if a stranger approaches - especially on their way to and from school. If your child is home alone after school, consider installing a home alarm system they can easily use and discuss additional home safety measures.
For more information on home safety and home security systems, visit http://www.securitychoice.com.
*Statistic from the American School Bus Council
###