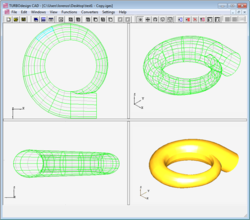 London and Copenhagen (PRWEB UK) 23 May 2012
Advanced Design Technology (ADT), a global leader in the development of advanced turbomachinery design methods and the TURBOdesign Suite, will exhibit in Stand 1902 at the American Society of Mechanical Engineers (ASME) Turbo Expo 2012, presented by the International Gas Turbine Institute (IGTI), June 11-15 in Copenhagen, Denmark. ADT will preview its new TURBOdesign Volute module and demonstrate new 3D inverse design capabilities soon to be available in the TURBOdesign Suite.
According to conference organizers, Turbo Expo is the world's premier congregation of gas turbine professionals, and this year's gathering will be one of the largest ever in Europe. In addition to the usual symposia and forums related to the latest in gas turbine technology, research, development, and application, the IGTI community has broadened the program scope to include wind and steam turbine technology.
"With our latest enhancements to TURBOdesign Suite, ADT continues to drive the application of 3D inverse design methodology to quickly make engineers productive with accurate, highly-efficient turbomachinery designs," said Professor Mehrdad Zangeneh, founder and managing director of ADT. "We are most pleased to demonstrate advances made to our TURBOdesign Suite modules including new modules for preliminary design, automatic optimization and volute design."
TURBOdesign Volute is this year's ADT product highlight. Most of centrifugal turbomachinery components suffer from severe performance penalties at off-design conditions. Many of these losses, especially at higher-than-design point flow-rates, are happening in the volute itself. It is therefore normal practice for many companies, to oversize the volute in order to minimize these losses. TURBOdesign Volute offers a superior alternative.
Efficiency
ADT developed TURBOdesign Volute specifically to address requirements for more efficiency and more compact centrifugal turbomachinery packages. The innovative two dimensional (2D) inverse design approach—compared to the traditional one dimensional (1D) method—for sizing of the volute allows users to specify flow and velocity variations within the circumference and build the volute with conventional or arbitrary cross-sections.
Design Time Savings
ADT's software engineers also have significantly enhanced the TURBOdesign Volute output format. In minutes, TURBOdesign Volute generates clean, smooth and ready-for-meshing Initial Graphics Exchange Specification (IGES) surface files of complete volutes, saving up to two weeks of computer aided design (CAD) work.
ADT's engineers will be at Stand 1902 to demonstrate TURBOdesign Volute as well as other new feature enhancements to TURBOdesign Suite 5.1 for added optimization and better preliminary designs as well as better know-how transfer between projects and design teams, significant design time reduction, higher performance and noise reduction.
Visit ADT during Turbo Expo 2012, contact us at +44 (0)20 7299 1170 or go to the company website to arrange a demonstration of unique 3D design and analysis codes.
About TURBOdesign Technology, Inc.
Founded in 2011, TURBOdesign Technology, Inc. (TDT) is the exclusive U.S. distributor for the Advanced Design Technology (ADT) turbomachinery design software, TURBOdesign Suite. TURBOdesign Technology is headquartered in New York, N.Y. For more information, call (212) 837-7947 or go to: http://www.turbodesign-tech.com.
About Advanced Design Technology
Advanced Design Technology (ADT) is a global leader in the development of advanced turbomachinery design methods, which help not only to shorten development time but also improve the performance of turbomachinery components. ADT's aim is to put designers in direct control of the aerodynamic design and to shorten considerably the design time and time to market for a range of turbomachinery products. ADT's clients, who represent some of the leading global players in the aerospace, automotive, power generation and marine fields, have achieved significant returns on investment in terms of reduction in design times, higher performance and ease of know-how transfer among different design teams and projects. For more information, call +44 (0) 20 7299 1170 or go to: http://www.adtechnology.co.uk.