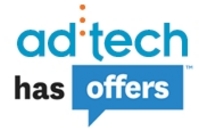 San Francisco, CA (PRWEB) April 19, 2010
When the doors open to Ad:Tech San Francisco tomorrow and attendees start piling in, no one will miss the powerfully projected image over the entrance escalators. As a Gold Sponsor for Ad:Tech, the HasOffers logo will greet every attendee in bold face, setting the tone for the entire conference.
"HasOffers is changing the landscape of hosted affiliate network solutions. This is a game changer company," says Heather Paulsons, President of PMG and conference attendee.
Only a year old, HasOffers is already turning heads in the affiliate marketing industry with their rapid climb to success. As the most reliable technology and least expensive solution for tracking and managing affiliate networks, HasOffers continues to take leaps forward in speed, design, and usability, and tomorrow HasOffers releases a One Month FREE Trial of the Basic Edition. No other competing tracking platform can complete access with no signup fees and no annual contracts.
"Literally made my account and had my network running within 24 hours...It's been pretty amazing." -- Jeremy Shoemaker, President of Shoemoney.com and known affiliate marketer
HasOffers associates will be found in booth #6063, fielding questions, passing out T-Shirts, running live demos, and touching base with loyal customers. It will be a fast few days marking the powerful new presence of HasOffers in online marketing.
# # #