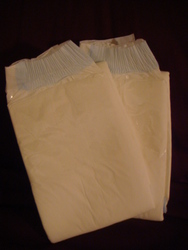 San Francisco, CA (PRWEB) January 21, 2008
BambinoDiapers.com, an adult baby and diaper lover-geared online retailer, is releasing a variation on its very popular Bambino Diaper. The company that first revolutionized the adult baby diaper market over 10 months ago with the introduction of its super-absorbent and very playful Bambino Classico Diaper has created the new Bambino Bianco: an even more absorbent, all-white adult diaper made explicitly for the adult baby and diaper lover communities.
After months of incredible success with the Bambino Classico Diaper, the company decided to create the new, all-white, plastic-backed Bambino Bianco Diaper so that it could cater to even more adult baby and diaper lover (ABDL) customers. The Bambino Bianco Diaper features a clear frontal taping panel which allows its wearer to customize the diaper with stickers or marking pens. The diaper still features the same quality refastenable taping system that consumers have raved about for months.
In addition, the new Bambino Bianco diaper features a slight bit more absorbency than the Bambino Classico Diaper, its predecessor. Product manager Giovanni Panno notes: "by adjusting the composition of this diaper, we've been able to add a little more absorbency in key places while maintaining the weight and without having to change the look and feel of our popular product. With the fully-customizable frontal panel and now increased absorbency, our customers should be able to create their perfect personalized adult baby diaper!"
In keeping with its commitment to providing its customers with excellent customer service and a high quality product line, The Bottom Half Group, LLC, operators of BambinoDiapers.com, have encouraged feedback from its consumer base since the company was created over 18 months ago. The newest diaper is the most recent product feature aimed at expanding use and enjoyment of the Bambino Diapers.
Beyond new product offerings, the company has also added several customer-friendly features to its website as of late. Customers can now automatically reorder their favorite diaper via BambinoDiapers.com's new Recurring Shipping Program. Customers simply select the recurring frequency of their order (every 2, 4 or 6 weeks) and then their order is automatically placed at a discounted rate.
For more information about the Bambino Classico Diaper or the new Bambino Bianco Diaper, please visit the online store at http://www.BambinoDiapers.com
About The Bottom Half Group, LLC
Owners of BambinoDiapers.com , The Bottom Half Group, LLC, designs and retails quality adult baby and diaper lover-themed products. It was incorporated in Northern California in 2006 to serve the ABDL communities with dignity, respect, and professionalism.
###