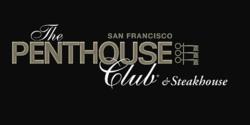 Whatever you're in the mood for, we've designed the club to deliver an unparalleled experience in terms of luxury, comfort and entertainment for everyone
San Francisco, CA (PRWEB) May 04, 2012
The world famous Penthouse Club and Steakhouse San Francisco has just announced one of the best lunch deals in town. Enjoy gorgeous ladies with deep discounts on top shelf libations and world class dining at this popular San Francisco gentleman's club.
The premier San Francisco adult entertainment complex now offers the Penthouse Power Lunch (menu: http://penthousesf.com/steakhouse/), a special-priced menu, every weekday between 11:30 a.m. and 3 p.m., and Happy Hour specials—featuring special prices on draft beers and well drinks and half-off all of Penthouse's signature drinks—from 11:30 a.m. until 7 p.m.
"Whatever you're in the mood for, we've designed the club to deliver an unparalleled experience in terms of luxury, comfort and entertainment for everyone," said Axel Sang, spokesperson for the Penthouse Club and Steak House San Francisco. "The specials are our way of thanking our guests for their patronage."
Guests can feast on scrumptious cuisine as they enjoy nonstop entertainment, featuring lovely Penthouse Key Girls like Asia, GiGi and Lexi. The menu, created by Michelin Star-rated chef Michael Ellis, includes the delicious half-pound Sunfed Organics' certified organic grass-fed beef burger or the local favorite, the North Beach salami, ham and provolone sandwich.
The classic American steakhouse boasts the privilege of having the largest champagne cellar in California. For the hard partiers and high-rollers, the club offers VIP bottle service (http://penthousesf.com/bottle-service/). The adult entertainment venue also hosts corporate events, birthdays, anniversaries, holiday parties and other private events.
The Penthouse Club and Steakhouse's distinctive design features include a massive 20-foot tall video wall, LED light curtains, gigantic, see-through champagne display cabinet, video-embedded cocktail tables, intimate private dining booths, and a refrigerated and illuminated ice rail built into the main bar to keep guests' drinks cold.
Bottle service and dinner reservations are requested, and can be made at penthousesf.com or Open Table, call (415) 391-2800. Lunch is available without a reservation. The Penthouse Club and Steakhouse is located at 412 Broadway Avenue in San Francisco's fabulous North Beach neighborhood.
About Penthouse Club and Steakhouse San Francisco
The Penthouse Club and Steakhouse San Francisco has taken upscale adult nightlife in San Francisco to an entirely new level. Featuring the top exotic dancers from around the country, the 15,000 square foot San Francisco adult club combines the best in adult entertainment with some of the finest dining in the City—including mouthwatering steaks, seafood and pastas made from the highest quality ingredients.