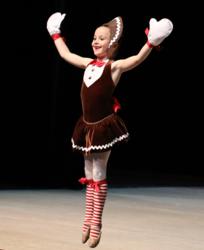 We are thrilled to present Nutcracker in this wonderful theater with such talent and artistry
Santa Cruz, CA (PRWEB) November 05, 2011
Santa Cruz dance classes provider, International Academy of Dance kicks off the holiday season with the Nutcracker Ballet on Nov. 26 and Nov. 27. The full-length ballet will feature principal dancers from the Miami City Ballet alongside company members from International Academy of Dance, students of the Academy and local dance artists within the Santa Cruz community. Tricia Albertson and Didier Bramaz are ballet stars in Miami, and will grace the stage in Santa Cruz with their remarkable performances of the Sugar Plum Fairy and Cavalier for the second year.
"Tricia recently returned from a tour with Miami City Ballet. In France, at their final performance, the audience gave a standing ovation with unending applause," says Vicki Bergland, teacher and choreographer at the Academy. "That is how I feel to have her back in Santa Cruz—unending applause."
Tricia Albertson was the ballet student of Vicki Bergland before she left for New York and, eventually, the Miami City Ballet.
"I feel so happy to see a former student give back to her hometown, and inspire a new generation of dancers," says Vicki Bergland. "The circle is completed."
Ms. Bergland, Shannon Cullem-Chipman, director of IAD, and IAD instructors Melanie Uselidinger and Melissa Palumbo are revamping the ballet's choreography. Ms. Uselidinger, Ms. Bergland and Ms. Cullem-Chipman have been working together for more than 20 years and danced together in the first Nutcracker in Santa Cruz County in 1988 with performances at Cabrillo's old theater.
"We are thrilled to present Nutcracker in this wonderful theater with such talent and artistry," says Chipman. "It is exciting to see the growth each year in the production and the dancers. I am so fortunate to work alongside some of my favorite instructors as a child and now at the Academy."
For more information on the International Academy of Dance, call 831-440-7221 or visit http://www.iadance.com. International Academy of Dance is located at 320 Encinal St., Santa Cruz, CA 95060.
About International Academy of Dance
International Academy of Dance, a dance company in Santa Cruz, offers spacious, state-of-the-art facilities with sprung floors and the same Marley dance surface used by the Royal Ballet. The company provides the highest caliber training in a comfortable and encouraging atmosphere. Many of its instructors have been successfully training and coaching professional dancers in Santa Cruz and Watsonville area for more than 20 years. IAD offers ballet classes, dance classes in children's and adult dance, as well as jazz, modern, contemporary/hip-hop, tap, zumba, pilates and belly dance classes.
###