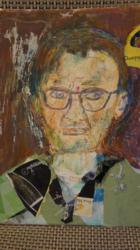 In our more than 25 years of serving the Bay Area, IOA has developed and provided innovative programs in health, social service, creative arts, spiritual support, education, and research
San Francisco, CA (PRWEB) November 01, 2011
Institute on Aging (IOA), an senior resource in San Francisco, is currently showcasing the works of one of their participants, retired artist Medford Todd, in the Art Gallery of IOA's Irene Swindells Center for Adult Day Services. More than a dozen pieces of artwork that Todd created are currently on display.
Some of the methods Todd used include collage, photo montage, layering and decoupage, which is the art of decorating an object by gluing colored paper cutouts onto it in combination with special paint effects.
Todd, now 76 years young, has always been interested in painting and sculpture, and came of age in an era of abstract expressionism and the folk movement, often referring to elements of these styles in his own works. Upon retirement, he was able to return to art, concentrating on experimenting with different combinations of collage.
Todd has also used his expertise to start an art therapy group at IOA's Irene Swindells Center for Adult Day Services that meets on Wednesday mornings with a few other clients and they mainly work on different collage pieces.
IOA operates two Bay Area adult day care services centers where participants can engage in a variety of activities that provide mental stimulation and promote physical health. Swindells Center for Adult Day Services is a collaborative partnership with California Pacific Medical Center.
"In our more than 25 years of serving the Bay Area, IOA has developed and provided innovative programs in health, social service, creative arts, spiritual support, education, and research. We continually expand our knowledge, skills and resources to provide services of the highest quality. We serve all with respect and care, without regard to income, race, religious preference, or sexual orientation," says Janet Howell, Communications and Marketing Director for IOA.
For more information on Institute on Aging, call (415) 750-4111 ext. 227 or visit them online at http://www.ioaging.org. IOA is located at 3575 Geary Boulevard San Francisco, CA 94118.
About Institute on Aging
Institute on Aging (IOA) is a community-based non-profit Bay Area senior home care organization that touches the lives of thousands throughout San Francisco, Marin and Santa Clara Counties. Their mission is to enhance the quality of life for adults as they age. IOA provides respected senior resources and services intended to allow older adults and adults with disabilities to live in their own homes for as long as possible. Their services are designed around supporting both the individual and their caregiver. Their services include San Francisco adult day care, home care, bookkeeping, and caregiver resources among others.
###