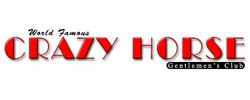 Our main stage features our world-renowned, fully nude showgirls who are consistently awarded the best adult entertainers of the year
San Francisco, CA (PRWEB) May 17, 2012
Crazy Horse, one of the best gentlemen's clubs that offers adult entertainment and bachelor parties in the Bay Area, is thrilled to present performances by Asa Akira from May 17 to May 19.
"Our main stage features our world-renowned, fully nude showgirls who are consistently awarded the best adult entertainers of the year," Crazy Horse's David Sovey said. "Visit our main stage for a taste of the evenings' events. After seeing our nude showgirls on the main stage, have a fully nude lap dance with one of our beautiful dancers and move to the feature room or couch room for a more intimate experience."
Renowned for its exotic and erotic stage performances, Crazy Horse Gentlemen's Club will once again titillate its audience as Akira performs at 9:30 p.m. and 12:30 a.m., from May 17 to May 19.
Crazy Horse has been consistently recognized as a premier venue for adult entertainment. It won the 11th, 12th and 13th Annual Adult Nightclub & Exotic Dancer Awards in 2008, 2009 and 2010, respectively.
"Rest assured, our world class talent and today's hottest XXX porn stars will be ready to give you and your guests a show you will never forget," Sovey said.
Packages for bachelor or birthday events include VIP admission for the celebrant, plus 10 guests; the choice of an XXX DVD or Crazy Horse T-shirt for all guests; an option for the celebrant to be onstage with the featured performer; and an 8x10 autographed photo with her, also optional.
For more event details or information about The Crazy Horse, call 415-771-6259, view the gentlemen's club on the web at http://www.adultentertainmentbayarea.com or visit 980 Market St. in San Francisco.
About The Crazy Horse
The Crazy Horse is a gentlemen's club that specializes in adult entertainment and bachelor parties in San Francisco. The club offers fully nude dancers and lap dances, as well as VIP rooms for more intimate experiences. Crazy Horse also regularly features popular adult stars on stage.