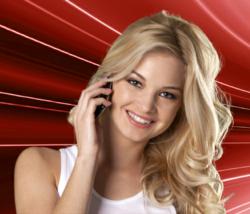 While the world becomes increasingly lived online, voice offers a humanizing touch that people still crave
(PRWEB) November 25, 2011
Adult phone dating provides a level of intimacy that web and mobile applications cannot allowing customers to explore their desires securely and anonymously. In the face of increasing digital competition, Teligence reports strong growth for it's RedHot Dateline phone chat service.
The call volumes of RedHot Dateline belie the prediction that phone chat services are dead. Each month, over 2 million people make over 16 million calls into the Teligence social networking products, which include RedHot Dateline, Livelinks, Vibeline, Tango, and Interactive Male. The voice lines offer a great variety of real people who are ready to engage in adult chat.
According to Teligence product manager Sean Ryan, voice provides a level of intimacy that web and mobile applications cannot. "The instant connection that is made through voice communication - it reaches people at a much more visceral level than texting or online chatting. While the world becomes increasingly lived online, voice offers a humanizing touch that people still crave. "The anonymity of chat phone lines like RedHot Dateline can bring out the wild side in a guy or gal. Unlike internet chat rooms, where you're not sure who you're talking to on the other side, our phone lines connect people in the same city 24 hours a day."
"Did you know that over 50% of the women who call RedHot Dateline, one of North America's most active adult chat lines, are interested in chatting with other women? Or that 6% of men who call in indicate that they would be interested in chatting with other men? Such is the norm in the anonymous world of adult chat, according to Ryan.
"One of the interesting features of our Live Interactive Voice Response technology is that the user can choose the experience that suits his or her mood on that particular call. Whether you want to engage in back and forth voice messaging with multiple callers at the same time, or wish the intimacy of private one-on-one live chat, our users are always in control of their experience. Using a social network like RedHot Dateline lets you indulge in your fantasy in a safe, anonymous way."
About Teligence
Teligence is the North American leader in voice-enabled social networking. Every month, millions of people across North America use Teligence chatlines to make millions of calls, connecting with real people for friendship, dating and fun. With a diverse product line that includes Interactive Male, Livelinks, Vibeline, RedHot Dateline, FonoChat and Lavender Line, Teligence offers a better way for everyone to make the connection that's right for them. For more information on Teligence or to arrange an interview, please contact Sean Ryan.
###