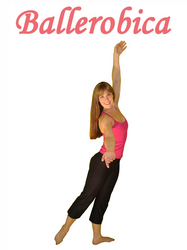 The goal of this program was to bring femininity back to the typical workout that has become overly aggressive
Reno, NV (PRWEB) April 28, 2009
Personal training innovator Lisa Juliet is redefining health and fitness for women, announcing today the launch of Ballerobica.com, a website dedicated to a revolutionary concept in exercise that combines the grace of ballet with the intensity of aerobics.
Juliet's unique program will be highlighted at the website, which will offer access to her video fitness programs, digital exercise workouts, personal training expertise and social networking tools to support women searching for a complete workout with the feminine touch.
With work-life demands increasing, the Ballerobica program works as the "me-time" women need, providing an outlet to draw energy from and rejuvenate the mind, body and soul.
"The goal of this program was to bring femininity back to the typical workout that has become overly aggressive," said Juliet, who has designed Ballerobica to meet the exercise needs of adult women. "Instead of working against our femininity, I would like women to work with it. Ballerobica does just that, giving women the fundamental tools they need to start transforming their life into something that is comfortable and natural."
Creating self-confidence is the No. 1 priority of Ballerobica, as women who use the program have the ability to develop a strong body to work in unison with a strong mind. The Ballerobica blueprint was specifically created to appeal to women at every fitness level, even those without any formal ballet training. The program goals include weight loss, body toning and, most importantly, establishing self-confidence.
Juliet's Ballerobica routines incorporate user-friendly ballet moves with standard strength-building exercises. The workout is customized to address several problem areas, including underarm flab and after-baby abs. To see results, the program requires just five,10-minute sessions at home per week, using only body weight as a method of resistance.
"Ballerobica gives women the tools to make small changes in their lifestyle that require little time and will have a big impact on the way they feel, the way they look and the way they live," said Juliet. "When you are practicing Ballerobica, you have to be in control of your body and your mind. It teaches you discipline and patience rather than giving you an outlet for aggression."
Another benefit of Ballerobica is that it's affordable. The exercise workouts are ideal for anyone who wants to get fit, take control of their health, and have the flexibility to do it on their own terms. For a fraction of the cost of a personal trainer, users have access to a fitness program for today's woman.
"It was easy to do but you can definitely feel it in your muscles," said student Amy Horner. "It was very different from anything I'd ever done before. It was very entertaining. After doing Ballerobica, I felt like my posture was much better, I was standing up taller and my abs felt so tight. I just felt so energized."
For those interested in offering something different in their gyms and studios, Ballerobica now offers a ballerobica certification program, which will allow you to teach Ballerobica classes.
###