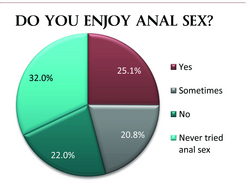 We are pleased to note that most Americans now view anal sex as an accepted and normal part of sexuality
Hillsborough, NC (PRWEB) June 23, 2010
Adam & Eve, America's most trusted source for adult products, is pleased to announce the latest results in its incredibly popular "Great American Sex Survey."
It goes by many names, and is giggled and whispered about, but anal sex has become an accepted part of the sexual repertoire. Besides being what many consider the ultimate taboo sex act, anal sex is enjoyed by nearly half of the adults in the United States.
Adam & Eve recently asked over 1,000 American adults how they felt about the controversial act of anal sex. Of the 68% who admitted they had tried it, 45% said they enjoyed it.
"We are pleased to note that most Americans now view anal sex as an accepted and normal part of sexuality," says Chad Davis, Marketing Director for Adam & Eve. "For years, anal sex has had a bad reputation… it speaks well for the open-mindedness of Americans that it is now included as a healthy part of sexuality."
Additionally, the survey revealed that of those adults who engage in anal sex, only 2.2% always include anal sex, while 7.6% said they include it often and 26.6% said they engage occasionally.
"Adam & Eve encourages American adults to get the facts on anal sex before adding it to their sexual activity," says Davis. "We also promote a healthy, open attitude toward all types of lovemaking between consensual adults, and are pleased to see anal sex is an acceptable part of lovemaking for a number of adults."
The web-based survey, conducted by an independent third party, of over 1,000 American adults age 18 and up, was sponsored by Adam & Eve to study sexual preferences and practices.
# # #