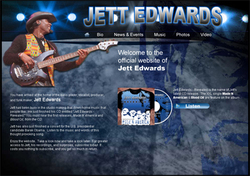 We need to work together to bring this country back into prominence
Lanham, MD (PRWEB) October 15, 2008 -
Wiggins Music Group Worldwide, Inc., in partnership with Dyme LTD (owned and operated by funk fusion co-creator Wayne Henderson), announces the release of adult contemporary artist Jett Edwards' "Revealed (XXL)" CD single, including the tracks "Blood Oil" and "Made N America," which are being used by the Barack Obama campaign as theme songs.
Mr. Edwards, a proud supporter of Barack Obama, is excited about the use of his tracks as Obama campaign songs. The song "Made N America" in particular has struck a significant chord with Americans, debuting at #3 on the Billboard Hot R&B/Hip-Hop Singles Sales Chart and entering the Billboard Hot 100 Singles Sales Chart Last Week at #36. Mr. Edwards will be performing in North Carolina at Obama political events and "get out the vote" drives during October and early November.
"Made N America" is a perfect song for the current period of economic strife. The song promotes the time tested concept of purchasing goods that are manufactured in the United States as a means to rebuild our country's economic strength. The song is also critical of the corrupt business leaders and politicians who have diverted huge amounts of America's wealth overseas.
Jett Edwards encourages all Americans to rally around the flag and request "Made N America" be played on favorite local radio stations. "We need to work together to bring this country back into prominence," said Mr. Edwards. "There's no better way to bring folks together than via a resonating, politically relevant tune. Let's make America better by buying American made products--that's what 'Made N America' is all about."
The CD single was released in a partnership between Wiggins Music Group Worldwide, Inc. (WMGW, Inc.), Dyme LTD and the artist himself. The songs are available on iTunes, Amazon, Napster, and eMusic.
For more information on the "Revealed (XXL)" CD single or the use of "Blood Oil" and "Made N America" as Obama campaign songs, visit JettEdwards.com or WMGW.net.
About Jett Edwards:
Now residing in Tokyo, Mr. Edwards was born and raised in North Carolina, the son of renowned gospel singer Hiawatha Edwards. Growing up in a musical household, he learned multiple instruments and appeared as a bassist on his father's LP before recording his first composition at the age of 14; "Lonely Man," which was released by the Philly Sounds label. Edwards also stormed the Gospel & Country music scene, where he also won a Grammy Award with the legendary Blind Boys Of Mississippi. He was also one of the first black artists to perform at the Grand Ole Opry in Nashville.
About Wiggins Music Group Worldwide, Inc:
Gerald A. Wiggins, a Harlem native and Columbia University graduate, founded WMGW, Inc. The CEO and staff have over 20 years of experience in retail music distribution, in both traditional and digital services. The company prides itself on catering to clients' individual needs and maintaining a high standard of integrity while creatively navigating a rapidly changing industry landscape.
###