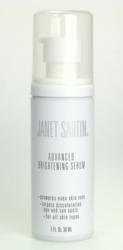 I believe in preparations that do a specific job for your skin. Using advanced technology that blends with my beliefs is essential to achieving successful results.
New York (PRWEB) February 12, 2013
Janet Sartin, the celebrated skin care company based in New York, is introducing an Advanced Brightening Serum to its line of premier skin care products. This new serum targets skin discoloration such as age spots or sun damage and promotes a healthy even skin tone. Available at Sartin.com, the Advanced Brightening Serum provides an essential skin brightening treatment for those interested in achieving a more even skin tone by decreasing skin discoloration.
The secret behind the new brightening serum is a clinically proven skin brightener called Alpha-Arbutin, which is known to block epidermal melanin biosynthesis. Since melanin is the substance that gives skin its natural pigment, controlling its biosynthesis allows for the prevention or reduction in dark spots and uneven tone. In addition to the Alpha-Arbutin, the lightweight serum is supercharged with natural skin brighteners such as licorice, watercress, cucumber, white mulberry, hibiscus, kelp and algae.
"I believe in preparations that do a specific job for your skin," Janet Sartin explains. "Using advanced technology that blends with my beliefs is essential to achieving successful results." According to Sartin, "Beauty is only skin deep, but no one is going to look within you if the first impression you leave isn't inviting."
Janet Sartin's Advanced Brightening Serum is easy to use and contains no paraben or hydroquinone. Women who applied the serum twice daily typically saw results in as little as four to six weeks results without the side effects of dryness, redness, and irritation. This dermatologist tested advanced brightening serum absorbs quickly after application and will not interfere with moisturizers.
When using this product it is important to limit sun exposure. If an area of the skin will be exposed to sunlight, an application of SPF 25 or higher sunscreen should be used after the Advanced Brightening Serum is applied. Janet Sartin offers an SPF 29 Sunscreen Mist and SPF 30 Wrinkle Defense Moisturizing Cream which are both are excellent choices to use in conjunction with the Advanced Brightening Serum to enhance its results.
In addition to the Advanced Brightening Serum, Janet Sartin is also famous for her anti-aging firming products formulated with special Peptides. Janet Sartin's facial treatments offered in New York have also gained notoriety and are sought after by the most famous, stunning and powerful women in the world. Sartin's New York Skin Care Salon has developed a loyal following. Including celebrities like Kathie Lee who mentioned on the Today Show that her favorite lipstick is Janet Sartin lipstick in Neo Nude.
Janet Sartin's newest facial treatment Hydrodermabrasion joins her most famous facial treatments, the Signature Facial Treatment, Crystal Exfoliation, and GentleWaves Skin Rejuvenation. For more information on Janet Sartin's New York Skin Care Salon, or to purchase products online, visit the Janet Sartin website at Sartin.com.
About Janet Sartin:
For more than 50 years, Janet Sartin has been creating her exclusive line of trusted and effective skin care and anti-aging solutions for a discerning clientele. Janet Sartin encourages a visit to the Janet Sartin Skin Care Salon in NYC to take advantage of the Skin Care Treatments and discover how beautiful skin can be with Janet Sartin. Beauty Advisors at Janet Sartin can suggest a personalized selection of the perfect products and Anti-Aging Facial Treatments to promote a healthy and radiant appearance.