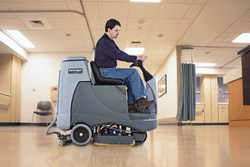 According to CIRI Chairman of the Board Jim Harris, "There are times when decisions are made to go 'green' that can have an impact on the actual cleaning process, resulting in a less healthy environment."
Minneapolis, MN (Vocus) March 2, 2010
A new white paper from Advance helps in-house and contract cleaners understand today's dual—or dueling—demands to clean for hygiene and appearance while also minimizing environmental and human impact. "How 'clean' is your green floor-cleaning" opens with a recent statement from the Cleaning Industry Research Institute (CIRI) that asserts: "It is imperative that the focus be on 'cleaning green,' that is cleaning first, cleaning for health and hygiene, as well as cleaning in an environmentally preferable manner."
The goal of today's green cleaning movement is to minimize impact on the environment, building occupants and cleaning personnel. One result has been a reduction in the use of potentially harmful chemicals when scrubbing hard floors in commercial and institutional settings. Intuitively, it might seem that the "greenest" cleaning is done with no chemicals at all. However, maintenance staff still need to meet the standard of clean required for their facilities—whether that standard is simply "cleaning for appearance" or a more stringent requirement for disinfection against the spread of staph and viral infections.
According to CIRI Chairman of the Board Jim Harris, "There are times when decisions are made to go 'green' that can have an impact on the actual cleaning process resulting in a less healthy environment." Because every floor-cleaning challenge is different, cleaning flexibility is essential for successfully balancing the demands for clean and green in relation to hard floor maintenance in schools, healthcare facilities, retail stores, office buildings and similar sites.
Floor machines for flexible cleaning
When evaluating green cleaning machines, look for those that can be adjusted to the soil content on the floor for maximum cleaning performance and efficiency. For example, the EcoFlex System available on the Advenge® rider-scrubber from Advance provides flexibility for cleaning green without compromising the "clean." Machine attributes that contribute to cleaning flexibility include: ability to use multiple types of cleaners as well as water only; ability to change detergents while scrubbing; ability to change detergent dilution ratio; ability to clean with warm water; and the ability to increase the scrubbing aggressiveness for specific problem areas such as entryways.
For more information on how cleaning staffs can meet today's need for both clean floors and green cleaning, Advance's 8-page paper is available as a free PDF download at http://www.ecoflexsystem.com/EcoFlex.html.
About Advance
Advance is a brand of Nilfisk-Advance, one of the world's leading manufacturers of high-quality commercial and industrial floor maintenance equipment. For more information on how the EcoFlex System from Advance can help cleaners balance hygiene and environmental impact when maintaining hard floors, call (763) 745-3500 or visit http://www.advance-us.com.
# # #