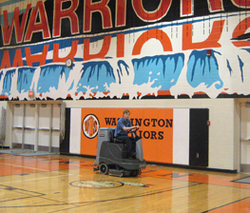 A new case study from Advance tells how Washington High School used the EcoFlex System floor scrubber technology from Advance to fight the spread of a staph infection in the school's gymnasium.
Sioux Falls, SD (Vocus) March 17, 2010
A new case study from Advance tells how Washington High School used the EcoFlex System floor scrubber technology from Advance to fight the spread of a staph infection in the school's gymnasium. Many cleaning and maintenance departments are finding that their regular floor-cleaning routines do not help protect against H1N1, MRSA and other viruses and infections. WHS controlled the spread of the infection by using versatile equipment that allowed for a more flexible floor-cleaning routine.
Every day, students in the two gymnasiums at 330,000-square-foot Washington High School in Sioux Falls, South Dakota, participate in basketball, wrestling and other activities. Compared to cafeteria tables, doorknobs and desks, the school's floors may not be considered obvious surfaces for exposing students to bacteria. The floors in the two gyms, however, are a constant repository for bodily fluids. Sweaty students dive for loose balls on the basketball courts, grapple opponents on the wrestling mats and participate in other activities that put them in frequent contact with potentially harmful germs and bacteria.
That's why ensuring the gym floors' cleanliness is part of Washington High's daily cleaning routine. The gyms also have become one of the fronts in the effort to stop the spread of diseases, infections and viruses – particularly after a staph infection was discovered in the main gym.
Knocking back the recent staph infection required cleaning the main gym's floor with a stronger and less-diluted detergent than Robert Underberg, the school's building manager, typically uses. However, the school's new Advenger® rider-scrubber from Advance, which features the EcoFlex™ System, made accomplishing it an easier proposition. The EcoFlex System allows Underberg to quickly and easily adjust the detergent dilution ratio – or change the type of detergent altogether.
"We may not have needed to increase the detergent ratio at all, but it was simple to do and gave us peace of mind that the staph infection wouldn't spread," Underberg said. "We wouldn't have had this option with our old equipment, not without mixing up a whole new batch of detergent and water. We might have done it, but it would have eaten up a big chunk of time."
Old equipment left school stuck in the same routine
Mixing a new tankful of cleaning solution also would have wasted both detergent and water. While Underberg's impetus for a new auto scrubber was simply that his old one was wearing out, he was well aware that he was wasting detergent, too. The amount of detergent mixed with water in Washington High School's old machine depended entirely on the person doing the mixing. The EcoFlex System has helped Underberg regulate detergent use because it automatically measures and dispenses the detergent at a ratio he selects.
"In terms of detergent use, more isn't always better, Underberg explains. "You get different people and one will go in and dump three or four 'glugs' of detergent in, and then give it an extra shot or two, and another person will do something different. This way, it's controlled and there is no waste." Underberg says that with the Advenger, he controls the detergent dilution ratio. "If need be, I go in and change the ratio using the EcoFlex System. I've been around 20 years and I know what we need, where we need it and when we need it." To ensure the staph infection didn't spread from the hardwood floors in the main gym, for example, Underberg increased the dilution ratio from the regular one ounce of detergent per gallon of water to 1.5 ounces per gallon.
Underberg hasn't had to fight a specific infection in the school's smaller gymnasium, but that space requires a slightly different cleaning approach. Underberg uses the standard detergent amount when he cleans the rubber floor of the smaller gymnasium. However, since the floor is porous, he ensures it's free of germs and bacteria by increasing the water flow and reducing cleaning speed. The detergent is then able to break the surface tension of water and clean deep into the rubberized flooring's cracks and crevices.
Underberg also utilized the EcoFlex System's "burst of power" button in his efforts to prevent the potential spread of the staph infection. This feature allows the operator to increase the scrubber's detergent dilution ratio, solution flow rate and brush pressure for 60 seconds. In addition to using the burst-of-power button as a preventative measure, Underberg uses it in the school's heavily trafficked common areas.
The full text of this article may be downloaded from http://www.cccinc.com/pr/advcomm/whs. High resolution graphics are also available for download by using this link.
About Advance
Advance is a brand of Nilfisk-Advance, one of the world's leading manufacturers of high-quality commercial and industrial floor maintenance equipment. Advance's commitment to its customers is achieved with equipment that supports both environmentally preferable cleaning and facility cleanliness. For more information on the EcoFlex System, call 763-745-3500, or visit http://www.ecoflexsystem.com.
###