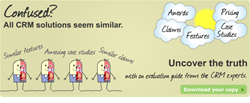 CRMnext Introduces Advanced Custom Fields
Delhi (PRWEB) August 08, 2013
Advance custom fields will be a part of the 'Toolboxes' for the CRM sales management module to facilitate effective customizations related to user interfaces, alerts, rules and more, all of which have a critical impact on logged in users' performance.
The Toolbox also lists options for enhancing workflows and business processes to increase conversion rates. Custom fields can also be created for New/ Edit and Details screens used for capturing/ viewing the details of leads generated through multiple channels. "The Manage Custom Fields option under the Leads' Toolbox offers a variety of 'field categories' with their related 'field types' for creating fields related to specific products, territories, roles, etc. For example, the 'Auto-generated' category has four options – Computed Field, Sequence Number, Ageing and SLA. This flexibility allowing to select from an assortment of varying options ensures user interfaces are equipped to quickly and accurately capture information. In addition, some custom fields also enable auto-calculation and computations using configured rules and filters to minimize navigation and optimize efficiency when interacting with customers or partners.
"Myriad options are available under Manage Custom Fields to ensure the most appropriate types of field are used for each field of information thereby optimizing user experience and ensuring data is consistently clean." said Dr. Manoj Kumar, Product Architect, CRMnext.
About CRMnext:
CRMnext is a specialist Customer Relationship Management product company with focus on ultra-scalable installations. CRMnext team has proven track record of delivering High-Impact CRM solutions in their key practice vertical of Financial CRM, Banking CRM, Insurance CRM, Media CRM, Pharma CRM, Telecom CRM etc. Unlike commodity CRM, CRMnext has been widely recognized as a proponent of strategy driven implementations.
Subscribe our blog to keep updated by visiting http://crmsolutions.crmnext.com/ or visit for Best CRM Software at http://www.crmnext.com/.