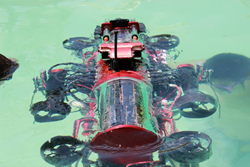 Our team winning spirit, like that of the CUAUV team, extends well into the projects we undertake for our OEM customers. Zulki Khan, President of NexLogic Technologies, said
San Jose, CA (PRWEB) September 25, 2014
Advanced PCB technologies from NexLogic Technologies, Inc. played a significant role in Cornell University's Autonomous Underwater Vehicle (CUAUV) victory at the 17th Annual RoboSub Competition held here July 28 to August 3 at the SSC Pacific TRANSDEC, CA.
CUAUV team's new 2014 vehicle called Gemini won first place overall and received $10,000. CUAUV's competition was an international field of 40 teams. CUAUV has placed in the top ten every year and has won the overall competition six times, including the 2014 win with its vehicle Gemini.
NexLogic Technologies, Inc. manufactured for Gemini and the CUAUV team custom PCBs to include motor controller, power management, heading and inertial measurement, and RS232 serial-to-USB. Nexlogic has been a Platinum Level Sponsor for the past nine years. Since 2006, Nexlogic's PCBs have been instrumental in the CUAUV team winning first place six times.
Mark Lee, CUAUV team leader, said, "Our Gemini vehicle was completed over a 10-month design cycle. It was fully modeled using CAD software, simulated with ANSYS, and entirely manufactured in-house. With 15 years of aggregate R&D to enhance AUV technology by CUAUV students, Gemini is the culmination of previous designs. NexLogic's support for our electrical system has proven invaluable as far as rapid prototyping and the final version implemented in our vehicle."
Zulki Khan, President of NexLogic Technologies, said, "We are extremely pleased with the CUAUV team's performance and winning spirit. At NexLogic, we like to foster that kind of winning spirit, not only with sponsoring relationships, like CUAUV, but also with our growing OEM customer base. Our team winning spirit, like that of the CUAUV team, extends well into the projects we undertake for our OEM customers."
NexLogic Technologies, a San Jose, CA-based leading PCB technology design, fab, and assembly house, has sponsored the sub-assembly work with the CUAUV project for the past nine years. The company acts as a technology consultant and facilitates PCB fabrication.
About Nexlogic Technologies, Inc.
1995-2014 19th anniversary year. NexLogic Technologies, Inc. is an ISO 9001:2008 Certified Company, ISO 13485 certified for medical electronics, and a RoHS compliant EMS Provider. It is a leading EMS Provider that offers total integrated circuit board solutions. The company was established in 1995 and has since served over 1500 customers in North America. Nexlogic's mission is to be the best electronic manufacturing services (EMS) provider to the markets it serves through high quality and an efficient manufacturing process.
http://www.nexlogic.com