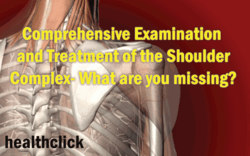 Pathologies of the shoulder complex discussed include AC Joint Injuries, Adhesive Capsulitis, Impingement, Instability, Labral Injuries, and Rotator Cuff Tears. Numerous treatment and recent advances in research
Franklin, TN (PRWEB) January 30, 2013
This two-day physical therapy continuing education course is a hands-on advanced shoulder seminar for PT and OT and is designed to help clinicians achieve superior outcomes when working with patients with musculoskeletal shoulder disorders. Dr. Durall blends current evidence and 16 years of orthopedic and sports clinical experience to help participants diagnose and manage shoulder disorders with greater confidence and proficiency.
Manual therapy and therapeutic exercise interventions for the thoracic spine, 1st rib and shoulder complex will be uniquely blended and systematically practiced to facilitate immediate clinical application. The critical role of the thoracic spine is emphasized in this course and participants will have the opportunity to learn a variety of mobilization techniques for the thoracic spine. Pathologies of the shoulder complex discussed include AC Joint Injuries, Adhesive Capsulitis, Impingement, Instability, Labral Injuries, and Rotator Cuff Tears. Numerous treatment approaches and recent advances in research are integrated to provide the clinician with a diverse array of options to help optimize biomechanical function and functional ability. This Occupational Therapy continuing education course in New Jersey is intended to facilitate immediate clinical application and hands-on lab time is liberally incorporated during. Participants can expect to refine and advance their clinical examination and treatment skills in a supportive and active learning environment.
This course will be presented at Englewood Hospital and Medical Center located in Englewood, New Jersey on April 27-28, 2013. This course will also be presented at:
March 09, 13 March 10, 13 Vital Rehabilitation Chicago, IL
March 16, 13 March 17, 13 Methodist Hospital San Antonio, TX
April 27, 13 April 28, 13 Englewood Hospital and Medical Center Englewood, NJ
May 18, 13 May 19, 13 Aurora Medical Center Kenosha, WI
Online courses for physical therapists approved in New Jersey can be found at http://www.healthclick.com.