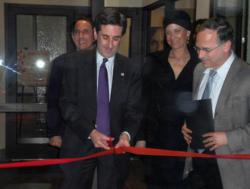 Roslyn/Albertson, Nassau County, NY (PRWEB) December 17, 2012
Legislator Wayne W. Wink of the 11th district officiated at a ribbon-cutting ceremony on December 4th, 2012 for Advanced Dermatology PC and the Center for Laser & Cosmetic Surgery. He was thrilled that they opened the Dermatology and Laser Center, creating jobs in his district. He presented Advanced Dermatology with an official citation recognizing their reputation and work.
The ribbon-cutting ceremony was followed by a discussion on dermatologic and cosmetic topics by Advanced Dermatology's Medical Director, Joshua L. Fox, M.D., and Whitney Bowe, M.D. Advanced Dermatology Drs. Lance Barazani and Jason Applebaum were at the event as well. Advanced Dermatology also introduced their newest doctors to the practice; Kaleroy Papantoniou, M.D., and Andrea Kassim, M.D. Hors d'oeuvres were served and the guests greatly appreciated the features of the new facility.
The Laser Center, among the most advanced, spacious and beautiful, has new lasers which can help medical conditions such as psoriasis, acne, warts, eczema and vitiligo as well as cosmetic conditions such as wrinkles, scars, tattoos, stretch marks and excels fat. The Laser Center has access to more lasers than any place else on Long Island and offers patients ample parking, luxurious accommodations, and the latest in medical, surgical and laser treatments.
This newly built 6,500 square foot state-of-the-art facility, located at 175 I.U. Willets Road has dramatically increased the capabilities of the practice, highlights by its 8-foot waterfall and accompanying Simply Posh Aesthetic Spa (http://www.SimplyPosh.com). Three corporate sponsors attended the event and were deeply impressed with how the Albertson/Roslyn community has been enhanced by this new Laser facility.
According to Lew Lippner, Administrator for the practice, "Advanced Dermatology PC deeply cares about its neighborhood residents and the environment. They have planted 15 new trees and cleaned up the previous neglect of the two adjacent lots. As a courtesy, Advanced Dermatology accepts most medical insurances, has night and weekend hours and will accommodate emergencies the same day or within 24 hours. "Advanced Dermatology PC wants to be a good neighbor," adds Mr. Lippner.
Advanced Dermatology PC can be reached at 516-625-6222 or online at http://www.AdvancedDermatologyPC.com
Joshua Fox, M.D., F.A.A.D., founder and director of New York & New Jersey-based Advanced Dermatology, PC & the Center for Laser & Cosmetic Surgery.
Advanced Dermatology P.C., the Center for Laser and Cosmetic Surgery (New York & New Jersey) is a premier medical practice with eight locations throughout Long Island, Queens, Manhattan and New Jersey. The practice provides cutting edge medical, laser & cosmetic dermatology and plastic surgery services. Each board certified physician in the practice is recognized as an expert in his or her specialty. Collectively they are active lecturers, media guests, authors and researchers. http://www.advanceddermatologypc.com