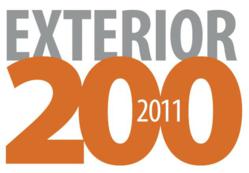 The MetalMan Roofing System offers lifetime advantages including protection, durability, and energy savings with virtually no maintenance.
Wilmington, NC (PRWEB) April 09, 2012
Some exterior contractors in the U.S. have noted a decrease in home improvement project sales in 2011 but are looking for gains in 2012 as the real estate market and economic environment begin to stabilize. Advanced Metal Roofing is proud to note that they were among the top two hundred leading exterior contractors nationwide in a survey published by Qualified Remodeler's Exterior Contractor Magazine. The company was ranked #54 for the year 2011. This marks a significant increase for the company from a previous ranking of over one hundred.
The Exterior 200 is a list of leading specialty contractors in the remodeling industry ranked by dollar volume. Exterior contractors on this list include those for whom more than 50 percent of their business comprises roofing, sunrooms, windows, doors, decks, porches, outdoor living areas, siding and other exterior home improvement jobs such as gutter installation.
Advanced Metal Roofing specializes in residential metal roofing and offers the exclusive MetalMan Roofing System. Currently, their service area includes North Carolina and upper South Carolina. The MetalMan Roofing System offers homeowners a visually attractive, durable metal roof with fade-free Kynar paint and significant energy savings. The virtually seamless roof panels are resistant to mildew, mold, rust, and debris build-up and are available in a range of colors to complement most any home.
In 2011, Advanced Metal Roofing completed over 450 roofing jobs throughout North Carolina. Their focus on metal roofing exclusively with the MetalMan Roofing System means they bring a great deal of experience and expertise to every job. "We believe in the value of the MetalMan Roofing System for homeowners, "comments Advanced Metal Roofing owner Jim Kenton. "It offers lifetime advantages including protection, durability, and energy savings with virtually no maintenance. Plus, choosing Advanced Metal Roofing means choosing an expert, knowledgeable, and experienced team for installing your new metal roof."
To learn more about the Exterior 200 list from Exterior Contractor Magazine, please see http://www.forresidentialpros.com/article/10415912/2011-exterior-200. To learn more about Advanced Metal Roofing and the MetalMan Roofing System, visit http://www.AdvancedMetalRoofing.com and http://www.MetalManRoofingSystem.com.