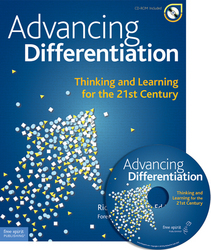 Dr. Cash takes differentiated instruction to a new level of urgency and pedagogical quality ... This book is a breath of fresh air.
Minneapolis, MN (Vocus) November 2, 2010
Go beyond basic strategies and gain the tools to differentiate the critical and creative thinking, problem solving, and decision making skills at the core of students' learning across all content areas with ADVANCING DIFFERENTIATION: THINKING AND LEARNING FOR THE 21ST CENTURY (Free Spirit Publishing, $39.99). Author Richard M. Cash brings over 20 years' experience as a classroom teacher and professional development trainer to this collection of essential research, practical information, differentiated instruction strategies, tools, templates, and activities.
This advanced K–12 teacher's guide will help educators:

Build achievement motivation and self-regulation
Set new roles for student and teacher that encourage learner autonomy
Inspire students' passion and creativity
Employ cutting-edge techniques for designing rigorous curriculum
The essential competencies for citizens in the twenty-first century have been identified as adaptability, self-direction, cross-cultural skills, productivity, and leadership. The goal of this book is to help teachers create a classroom environment that embeds these competencies within the curriculum, reinforces them through instructional practices, and requires the generation of original products. ADVANCING DIFFERENTIATION is intended to move teachers from where they are now in the process of differentiation to the next level of infusing the thinking and learning skills essential for student success in the new century. Key features include:
A solid, up-to-date research base that builds on the work of respected experts such as Robert Sternberg, Carol Ann Tomlinson, H. Lynn Erickson, Robert Marzano, Carol Dweck, and Barry Zimmerman
More than 50 illustrative figures, diagrams, and sample lessons in all content areas and for all grade levels
Over 40 reproducible forms, templates, handouts, and walk-through checklists (all included on the CD-ROM, many as customizable PDFs)
A PowerPoint presentation for use in professional development
As Cash writes in the book, "While retaining fidelity to a standards-based curriculum is essential, it also is our job as teachers to adapt and enhance this curriculum when needed to ensure our students' success. This often means infusing more rigor and conceptual knowledge into the curriculum, employing specific strategies to engage and motivate students, building students' self-regulation skills and learning autonomy, and, perhaps most importantly, making certain our students are not just learning, but also are thinking." ADVANCING DIFFERENTIATION is a powerful resource that will guide educators in creating a thriving, student-centered, modern classroom.
Praise for ADVANCING DIFFERENTIATION:
"Dr. Cash takes differentiated instruction to a new level of urgency and pedagogical quality ... This book is a breath of fresh air." -- Scott J. Peters, Ph.D., assistant professor, Department of Educational Foundations, University of Wisconsin–Whitewater
About the Author
Richard M. Cash, Ed.D., is director of gifted programs for Bloomington Public Schools in Bloomington, Minnesota, having previously taught elementary, middle-grade, and graduate students for over 20 years. His areas of expertise are brain-compatible learning, differentiated instruction, and gifted education. He is a highly sought-after professional development trainer who has worked with schools throughout the United States and internationally. Richard lives in Minneapolis, Minnesota.
Contact
Elena Meredith
612.746.6848
meredith(at)freespirit(dot)com
###