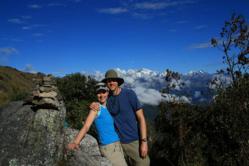 "This was the best honeymoon I could have imagined."
Queenstown, New Zealand (PRWEB) March 16, 2012
New Zealand-based adventure tour operator Active New Zealand reports significantly more interest this year from newlyweds, which they say is the latest growth market for small group adventure travel, looking for an adventure honeymoon in New Zealand, Peru or the Galapagos Islands.
Travelling with other people and a local guide or two may not sound like a relaxing honeymoon to some, but in the care of a reputable operator, a small group adventure can be the perfect, hassle-free way to bond for adventurous couples who lead an active lifestyle at home. Andrew Fairfax, founder of adventure outfitter Active New Zealand, says, "We've definitely noticed an increase in honeymoon bookings over the past few years, and lots of interest for the upcoming season. We pride ourselves in providing legendary Kiwi hospitality and highly personalised service, and our honeymooners appreciate that."
On today's wedding registry -- often done online -- toasters and place settings have been replaced with a memorable item that is guaranteed not to break before the couple's first anniversary. So what do friends and family get a couple who has everything because they have been living together for years? In lieu of gifts, couples are often asking wedding guests to contribute to their honeymoon savings accounts. But guests shouldn't expect to be funding cocktails on the beach in the Bahamas. Today's couples are more likely to celebrate married life by ticking something off their bucket list together, such as hiking the Inca Trail to Machu Picchu, snorkeling in the Galapagos Islands or hiking the Milford Track Guided Walk in New Zealand while on an all-inclusive adventure honeymoon.
Jim Stoen of Holladay, Utah, explains, "Anne and I recently got married and... we didn't want to do the same thing that a lot of our friends do, so we decided to go big." They booked a 2-week guided tour hiking, biking and kayaking with Active New Zealand. "From pickup to drop off, we had an amazing time. The sights we saw were amazing. The activities we did were fantastic and the guides were great! We couldn't have asked for a better trip, we'll remember this forever."
Autumn Young of San Jose, California, who spent her honeymoon in the Galapagos Islands watching the morning lobster catch arrive, playing football with the local islanders and snorkeling with the local marine life, said: "This was the best honeymoon I could have imagined."
Fairfax recommends that couples let their tour operator or travel agent know if they're on their honeymoon when booking a tour as often they'll get room upgrades, complimentary perks and VIP treatment. "We love to surprise clients with thoughtful touches, especially when they're on their honeymoon, to create that bit of magic," explains Fairfax.
Honeymooners interested in learning more about Active New Zealand's fully-guided adventure and hiking tours can visit http://activenewzealand.com to request a free brochure or contact them on 800.661.9073 to see if a fully guided small group tour would be right for them.
About Active New Zealand:
Andrew Fairfax founded Active New Zealand in 1996 to share what he believes is the best way to experience his country. In recent years, Active has expanded its offerings to include the same style of small group adventures in Peru, Patagonia, Ecuador and the Galapagos as Active South America and Nepal tours as Active Himalayas. Over the last 16 years, more than 14,000 travellers have experienced the company's incredible attention to personal service on their fully-guided, all-inclusive adventure trips.